2017 Kia Cadenza vs Hyundai Azera

You want a luxurious full-size sedan, but the price tag of luxury models can be jaw-dropping. Fear not--that's exactly what models like the Kia Cadenza and Hyundai Azera specialize in. Sharing a platform and an engine, these two might seem like they have little difference--but that would be very wrong. Let's compare these two smart, stylish, and value-focused sedans to see which one is a better choice for you.
2017 Kia Cadenza vs Hyundai Azera
Styling: Kia Cadenza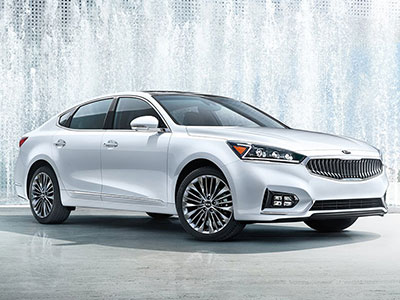 The Kia Cadenza has been redesigned this year, and the design department is working hard to keep moving Kia toward the top of the market in style. The 2017 Kia Cadenza is long, sleek and a little sporty, balancing the comfort and luxury presence with a bit of fun.
The Hyundai Azera is a heavily sculptured design with a decidedly premium aura about it. The front of the Azera, in particular, looks a bit like the Genesis, which is definitely a good thing. Both of these are very serious rivals to the established luxury sedan market, but we like the balance between sport and luxury in the Cadenza.
Power and Performance: Kia Cadenza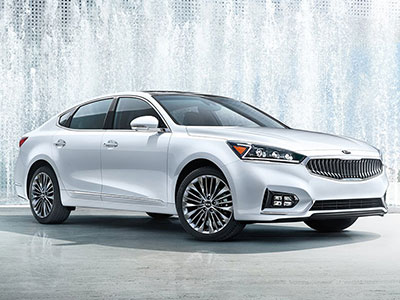 The Cadenza might have the athletic look of a sport sedan, but the emphasis under the hood is all about refinement and comfort. The single available engine is the same 3.3-liter V-6 from the previous model, rated at 290 horsepower and 253 lb.-ft. of torque that gets sent to front wheels through a new eight-speed automatic transmission. The new transmission does its job beautifully, but the suspension and the rest of the setup is more about a smooth ride more than engaging performance.
Remember, the Azera and the Cadenza share an engine. Surprisingly, though, the same 3.3-liter V-6 engine in the Hyundai develops a little more power with 293 horsepower and 255 lb.-ft. of torque. However, in the Azera, it's still mated to an older six-speed automatic transmission. That transmission is good, but it's not as good as the brand-new eight-speed transmission in the Cadenza.
Interior: Kia Cadenza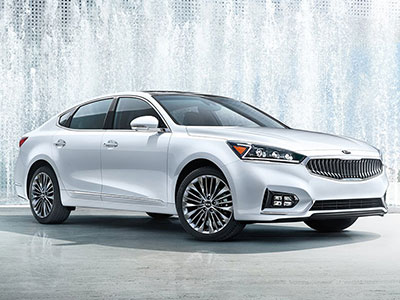 If you haven't been in a Kia for a while, especially a Cadenza, forget what you think you know about the brand's interiors. The new Cadenza seats five people in considerable comfort, and it's hard to distinguish this interior from some of the far more expensive rival luxury models. Rear leg room is excellent, and the quality and fit of materials is outstanding.
As Hyundai now has the separate Genesis luxury brand, a car like the Azera doesn't need to be quite the rival to the luxury models as others may be. This could explain why the cabin of the Hyundai isn't quite as opulent as the Cadenza, but the Kia might just be better because it's newer. Either way, the Kia Cadenza has the edge here.
Features and Equipment: Hyundai Azera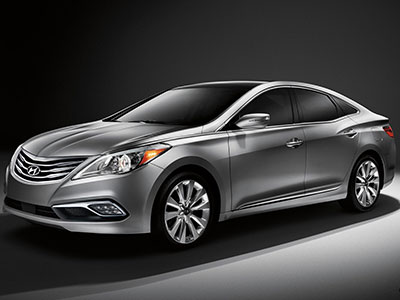 The Kia Cadenza has three trim levels: Premium, Technology and Limited. Though the Premium is the first trim in the new Cadenza line-up, it would be an insult to call the Premium model an entry level car. After all, when was the last time you came across a base model of a non-luxury car that had standard leather seats that are power adjustable and heated in the front and a 7-inch touchscreen infotainment system? The Technology trims adds the likes of automatic high beam LED headlights, navigation, automatic emergency braking, adaptive cruise control, air conditioned seats and a wireless cell phone charger. And then the Limited model tosses just about everything Kia currently has to offer into a vehicle that you would be hard-pressed to call anything other than luxurious.
At first glance, the Azera has even more standard features than the Cadenza, which may be hard to believe. However, the Hyundai Azera only offers buyers two trim levels so you'll get one fewer option than with the Cadenza. However, the Azera's entry model comes with more bells and whistles and that will likely matter to many buyers.
Learn More about the Kia Cadenza

Yes, the 2017 Kia Cadenza and the Hyundai Azera have a lot in common. But that doesn't mean that it's not easy to see that the Kia Cadenza is a better option overall than the Azera--especially since its base model comes in at a lower price. A better interior, more modern powertrain, and balanced sporty styling gives the Kia Cadenza our stamp of approval.
Current Inventory
There are currently no 2018 Kia Cadenza Limited 4dr Sedan for Sale in inventory
Disclaimer
"Allentown Kia" pricing is valid BY APPOINTMENT ONLY through our Internet Department and cannot be combined with any other offers.
Additional fees may apply to located vehicles not in dealer's stock.
Advertised price assumes primary lender approval 720+ score, includes all factory to dealer rebates and all fees due from the customer except for state, local and/or county sales tax, motor vehicle, documentary fees and Certification fees when and where applicable.
'Buy it Today' price includes all available offers, incentives, and factory rebates; must qualify for all rebates to receive Buy it Today pricing. Prior sales are excluded.
All radio advertisements are based off of Lot Pricing and are not to be combined with Internet pricing.
*Allentown Kia installs a protection pack on all Pre Owned Vehicles which is $1295.00
*All prices are including dealer financing only
*All third party web pricing is pulled from dealer website and restrictions apply
*Kia Certification is additional fee, not included in price of vehicle
*Doc Fee $389.00
Please verify any information in question with Allentown KIA. Call (610) 628-3831 to make your test drive reservation.