2017 Kia Niro
Take a hybrid crossover SUV, add a healthy dose of passenger comfort, modern technology, and a dash of style, and you've got the 2017 Kia Niro. This all-new model is no ordinary hybrid - in fact, based solely on its muscular crossover style, you'd never single it out as such.
2017 Kia Niro
The road isn't exactly full of hybrid crossover SUVs, but, with everything that the all-new 2017 Kia Niro has to offer, that may soon change. Its hybrid powertrain delivers up to 52 city/49 highway mpg - and big savings for commuters and travel enthusiasts. But it's not just good on the budget--it's also great to drive with composed handling and sharp steering and enough speed to keep up with its competition.
The 2017 Kia Niro is also notable for its comfort features. Supportive, comfortable seats can be even better with the Niro's heated and ventilated seat option. Families stay friendly with the Niro's spacious, welcoming back seat that offers plenty of elbow room for passengers of all ages and sizes. Behind the rear seats, you'll find 19.4 cubic feet for thrift shop goodies and grocery hauls or, for those times when need a little extra space, you can more than double that capacity to 54.5 cubes when you fold down the second row.
Next up is safety - and, once again, the 2017 Kia Niro can't help but impress. When you stop on a steep incline, you don't have to worry about rolling backward in the time it takes you to switch from the brake to the gas pedal - because all models come with hill-start assist. A rearview camera is also standard equipment and when the car in front of you comes to an abrupt stop, four-wheel anti-lock brakes provide the stopping power you need to avoid a collision.

Niro Technology
In addition to high-tech safety gear, the 2017 Kia Niro is practically brimming with infotainment features. Every single model comes standard with a responsive touchscreen, which includes smartphone integration with Apple CarPlay and Android Auto. It's easier than ever to stay connected - use the system's voice controls to call your significant other on the way home from work, no hands necessary. You can even use the voice controls to ask for Google Maps directions or change the Internet radio station.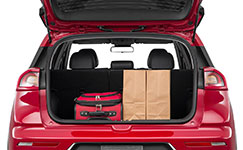 Roomy Storage Area
With more than 19.4 cubic feet of storage, the Niro gives you plenty of room for what you need--and more than doubles it when the second row is folded down.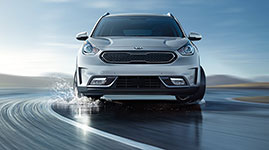 Vehicle Stability Management
This feature adds steering direction control to your drive and intervenes when its needed to keep the Niro's wheels firmly on the ground.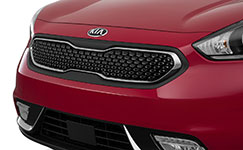 Tiger Nose Front Grille
The Niro's signature styling gives it a muscular, assertive edge and sets it apart from other crossovers on the road.

Blind Spot Detection
Detecting issues on both the side and to the rear, where you might not see everything, the Niro's available feature gives you both visual and auditory signals to warn you of a problem.
Conclusion
The 2017 Kia Niro is a rare breed, combining thrifty hybrid power with family-friendly crossover utility. Inside, the Niro offers an excellent place to spend a road trip - or just a day's worth of errands around town. Incredible fuel efficiency, a great safety record, and impressive features make the Kia Niro a contender in any SUV market, not just the hybrid one.