2019 Kia Forte vs Honda Civic
2019 Kia Forte vs Honda Civic
With their stellar fuel economy and roomy, high-quality cabins, the compact 2019 Kia Forte and Honda Civic are easy to love. Both models also give you a lot of features for your money. So, which is right for your daily drive? Our comparison guide is here to help you choose the best compact for your money.
Most in Creature Comforts: 2019 Kia Forte
When you settle into the newly redesigned Kia Forte, the first thing you'll notice is its upgraded cabin. The Forte has the spacious, supportive seating you need for a long ride. And, compared to previous Fortes, this one stretches out the features list with a newly standard 8-inch touchscreen and Apple CarPlay and Android Auto smartphone connectivity. Now you can cruise to work and stay connected, without ever looking down at your phone.
We're also fans of the 2019 Honda Civic cabin, which also features an impressive range of comfort and tech features. This includes a road-trip-friendly supply of head- and legroom in both rows. High-quality materials lend themselves to the Civic cabin's sense of style. If we could change one thing about the Civic, though, we'd make its infotainment system a bit easier to use. Kia's Uvo infotainment features a more responsive touchscreen and intuitive menus.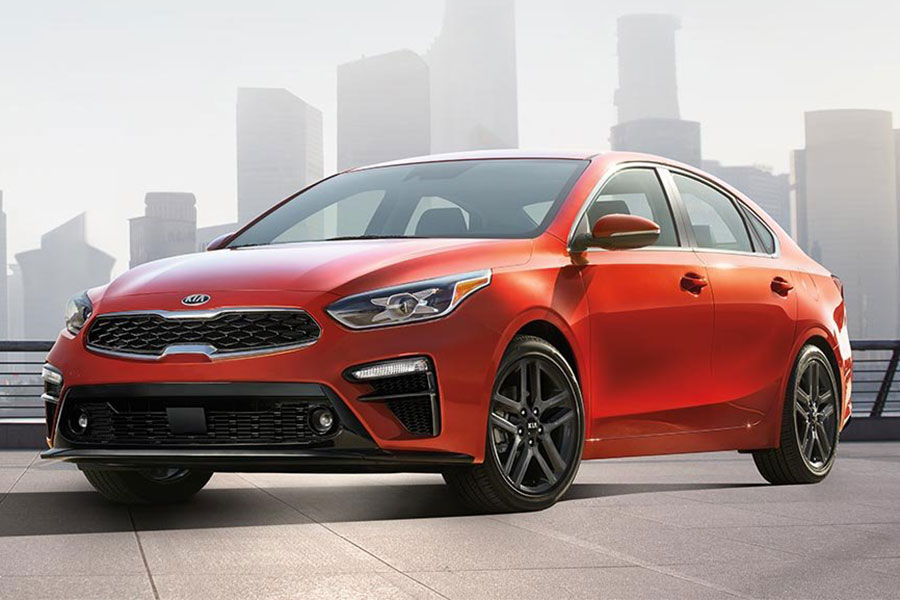 Best Warranty: 2019 Kia Forte
Kia offers one of the best new-car warranties out there, making the Forte the right choice for drivers who crave a safety net. Every new Kia comes with a 10-year/100,000-mile limited warranty to help you take care of unexpected problems without breaking into your piggy bank. (https://www.kia.com/us/en/content/why-kia/quality/warranty-quality) As a Honda, the Civic features a 3-year/36,000-mile limited warranty to help keep your compact in good working condition.
Thriftiest Commuter: 2019 Honda Civic
The Civic inches ahead in this category, technically saving you the most at the pump. The Civic earns up to 32 city/42 highway mpg, depending on which powertrain you select. The Forte's thriftiest powertrain earns EPA ratings of 31/41 mpg, making this a seriously close competition.

Lowest MRSP: 2019 Kia Forte
By choosing the Forte, you save the most on upfront costs. Kia's compact sedan starts at $17,690, giving you the better deal on daily transport. The 2019 Honda Civic doesn't set you back a whole lot more, with an MSRP coming in at $19,450.
We think you'll agree that the 2019 Kia Forte is the best choice for your daily ride. Not only does this compact car deliver world-class comfort and tech features, but it also delivers them at the best price. Featuring all the latest safety aids and one of the best warranties on the road, the Forte also buckles down on your peace of mind.