2019 Kia K900 Preview
2019 Kia K900 Preview
The newly redesigned 2019 Kia K900 boasts extra passenger space, sleek new exterior styling, and rich interior luxury.
What to Expect from the Upcoming 2019 Kia K900
Fresh from Kia's design studios, the K900 is a high-end sedan with a kind of minimalist pizzazz. The new body is slightly longer than before, giving the K900 an increasingly streamlined look - as well as improved interior leg room. Chrome detailing around the windows, grille, and exhaust tips adds to this sedan's sleek style.
The 2019 Kia K900 upholds the line's reputation for upscale comfort. Every single model comes standard with refined leather upholstery. Should you crave even greater luxury, you can select the soft Nappa leather seats. All trim models maximize comfort with heated and ventilated front seats. If you plan to travel with passengers, add the heated and ventilated rear seats for the best possible road trip. The 20-way adjustable driver seat caters to drivers of all shapes and sizes. The 12-way front passenger seat also supplies the necessary leeway to maximize comfort. Thanks to the multi-zone climate controls, even rear passengers can set their own perfect temperature.
The cabin also offers high levels of style. Choose from several different interior colors - including beige, black, Espresso Brown, and two-tone Sienna Brown - to tailor the K900 to suit your personal style. Each interior color is paired with its own complimentary open-pore matte wood trim to refine the overall look.
The K900 has your protection in mind. The Kia K900 offers the full range of high-tech safety systems, alerting you to dangers like pedestrians in your path and potential collisions. The new driver attention feature actually monitors you for signs of fatigue and warns you when it's time to take a break. Add the 360-degree camera and guiding this sedan into a parallel parking space is a snap. The K900 also offers rear automatic emergency braking, which can come in handy as you're backing out of a blind driveway.
This modern sedan is also stacked with tech features. The UVO infotainment interface includes navigation technology, so you never have to worry about locating a public parking garage or getting lost on the highway. The new UVO Luxe app gives you access to your K900 from your smartphone, including remote start and geo-location services. If you forget where you've parked, this app will point you in the right direction. Finally, it's as powerful as it is luxurious. The 2019 Kia K900 is set to deliver 365 horsepower and 376 pound-feet of torque via its 3.3-liter twin-turbo V6 engine. The eight-speed automatic transmission aims to conserve fuel at high speeds.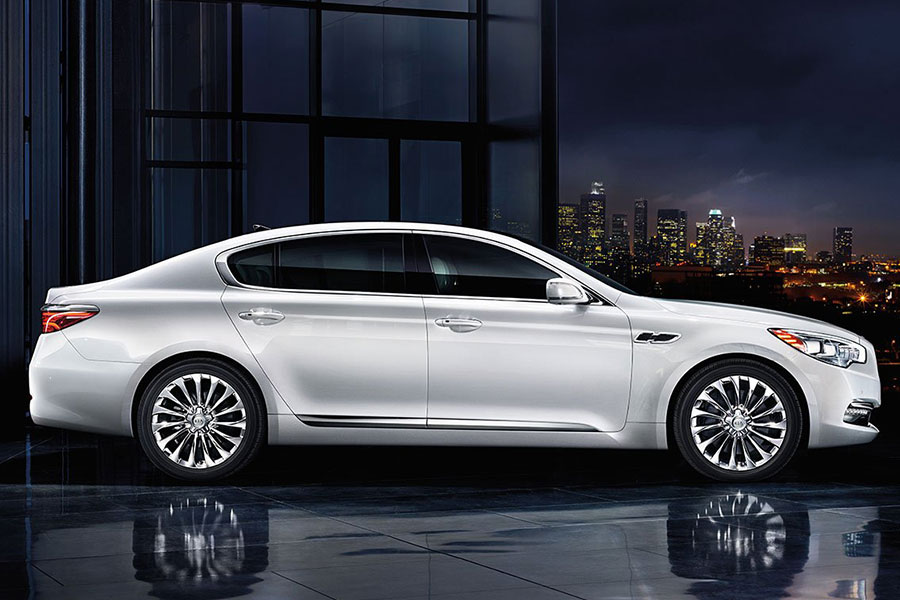 Who Should Consider the 2019 Kia K900
The upcoming K900 offers a unique combination of high-end style, cutting-edge tech, and family-friendly pricing. That puts it in league with a wide range of drivers, from those looking to save thousands on an upscale ride to work to those in need of a plush family hauler.
When to Expect the 2019 Kia K900
You can test-drive the newly redesigned Kia K900 this fall. Check back to learn more about this high-end sedan. Or, if you prefer, get it touch with us at Allentown Kia and we'll give you a call as soon as it arrives.