2019 Kia Niro
2019 Kia Niro
2019 marks the third year of this hybrid crossover sport utility vehicle. We continue to find the Kia Niro the competitive hybrid-to-beat. In this preview guide, we'll talk about what makes the 2019 Kia Niro so great and why this subcompact SUV deserves a spot in your driveway.
A Truly Affordable Hybrid
We're not sure how they did it, but the 2019 Kia Niro is a hybrid SUV that starts at just $23,490. That's comparable to the price of hybrid sedans like the Toyota Prius, but the Niro is a subcompact sport utility vehicle instead. The base FE trim boasts standard features like Bluetooth, two 12-volt power outlets, keyless entry, mood lighting, and UVO infotainment system on a 7-inch touch screen with Android Auto and Apple CarPlay. There's also rear camera display, Brake Assist and Hill Start Assist Control.
Beyond the Niro FE, there are four other trim levels: LX, EX, S Touring, and Touring. The LX is an easy step up from the FE, costing only $310 more and giving you roof rails and Smart Key with Push-Button Start. If you step all the way up to the top-tier Touring, you're looking at a price tag of $32,150. That's pretty affordable for a top-tier anything. And if you do go to the top, there's 18-inch alloy wheels, 8-inch touch screen, Harman/Kardon audio system, leather trim seats, leather-wrapped and heated steering wheel, ventilated front seats, and more waiting for you.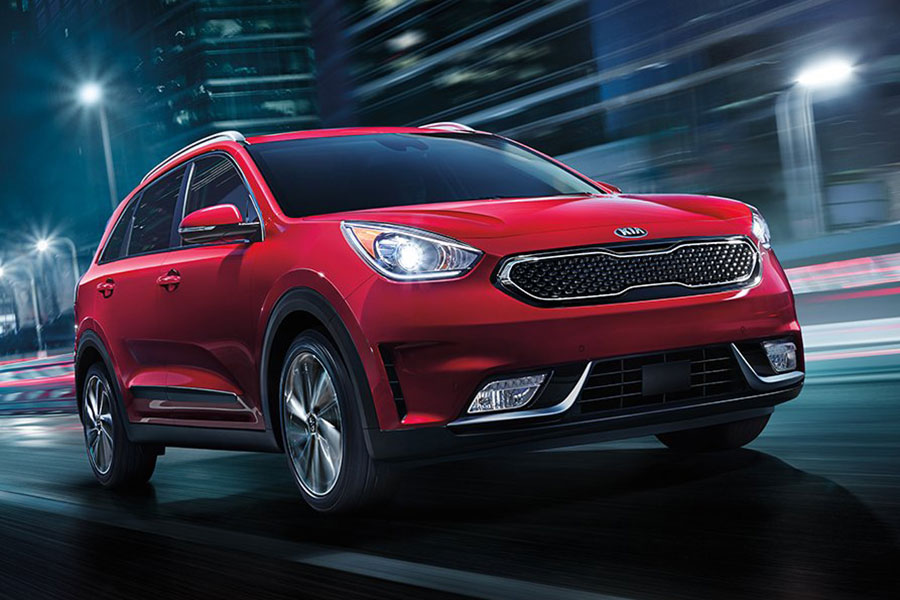 Literally Unbeatable Fuel Economy
The 2019 Kia Niro is powered by a trio of systems working together. The Niro has a hybrid-optimized engine paired with a highly efficient, lightweight electric motor and is powered by a strong lithium-ion polymer battery. The engines are paired to a 6-speed dual-clutch automatic transmission, not a continuously variable transmission (CVT) like most hybrids. You'll see the results in the fuel economy. We don't mean that the Kia Niro has good fuel economy--or even great fuel economy. We mean the Kia Niro has Guinness World Record fuel economy. No, really. In 2016, a Kia Niro traveled from Los Angeles to New York City, setting a world record of 76.6 miles per gallon and beating out the previously held record of 64.5 mpg by a wide margin. (https://www.kiamedia.com/us/en/media/pressreleases/11956/2017-kia-niro-sets-guinness-world-records-title-for-lowest-fuel-consumption-by-a-hybrid-vehicle) The 2019 Kia Niro FE is slated to get 52 city and 49 highway miles per gallon. That's positively show-stopping.
But if that's not good enough, you can opt for the plug-in hybrid option in the 2019 Kia Niro EV. This electric vehicle goes 240 miles on a single charge. Just pull the Niro EV into your garage, insert the plug into the outlet, have dinner, stream a movie, and go to bed. The Niro EV will be all charged up when you get up in the morning.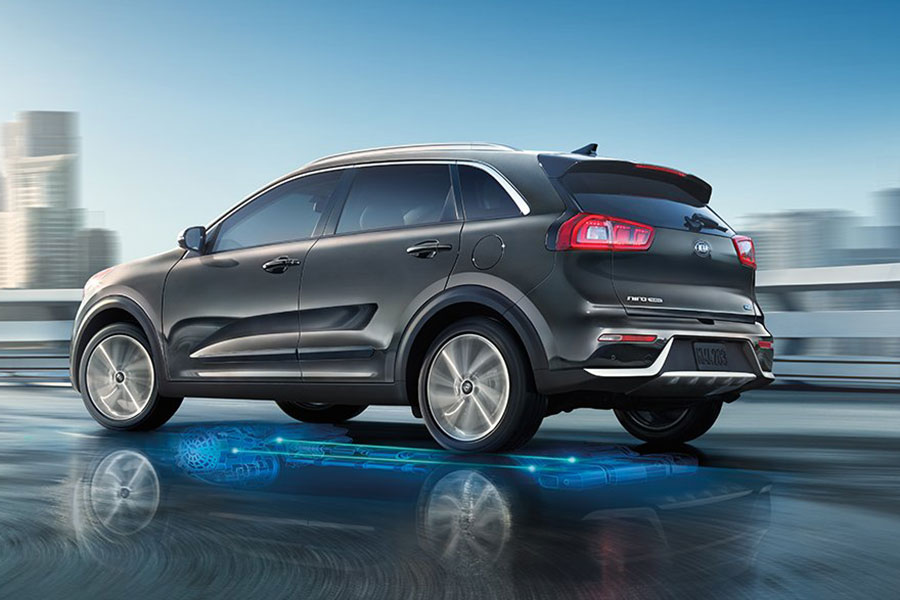 Strong Front-Wheel Drive Has Quite a Pull
You won't miss all-wheel drive in the 2019 Kia Niro, not to mention the added expense and weight of AWD. That's because with 6.3 inches of ground clearance, rear-wheel multi-link suspension, and a front-wheel drive system capable of taking on rural highways and snowy pavement, the Kia Niro is a competent traveler, no matter the weather.