2019 Kia Optima Hybrid
2019 Kia Optima Hybrid
Kia is in the hybrid game in a big way. The Kia Niro is a dedicated hybrid crossover vehicle and the Kia Optima sedan has a hybrid option. Other hybrid manufacturers beware: Kia is tearing up the track behind you and lies in striking distance. In this preview guide, we'll be talking 2019 Kia Optima Hybrid. This four-door sedan gets you from here to there with its turbocharged 1.6-liter 4-cylinder engine and 7-speed dual-clutch gearbox, returning 37 miles per gallon. But you won't even touch the gasoline if your commute is within 14 miles of home. The Optima Hybrid will take you there and back all-electric with its 29-mile electric range.
Long-Lasting Warranty
One of the things we love about the Kia lineup is their almost unbeatable warranty. The 2019 Kia Optima Hybrid is no exception. The Optima boasts a 5-year/60,000-mile basic warranty and a 10-year/100,000-mile powertrain warranty. Chances are you won't need that warranty much though. Last year's reliability rating for the Optima Hybrid was a stellar 4 out of 5 stars, solidly above average.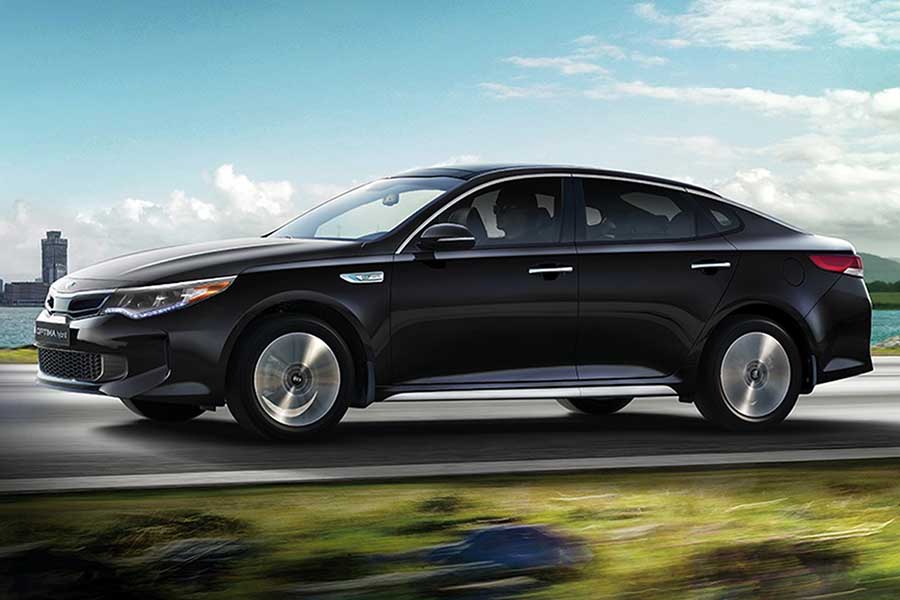 Safety Tech for the Masses!
The 2019 Kia Optima Hybrid starts at just $27,985. At that low base price, you get all the available safety tech right out of the gate. First is its Forward Collision-Avoidance Assist that hits the brakes when an impact is imminent. That pairs nicely with Forward Collision Warning, sounding an alert when a crash is imminent. Then there's Driver Attention Warning that alerts you if your attention seems to be drifting, Lane Keep Assist that subtly corrects steering corrections if the car drifts out of its lane, Lane Departure Warning, which goes off if the Optima drifts, and Rear Cross-Traffic Collision Warning, which lets you know when cars are coming that you can't see out your rearview camera or mirror. What other car gives you all that standard?
So what do the other trim levels give you, if not safety tech? Strictly luxury items, like trim-specific steering wheels, panoramic sunroof, and two-tone leather seating surfaces in red and black. Kia is sending the message that safety shouldn't come extra.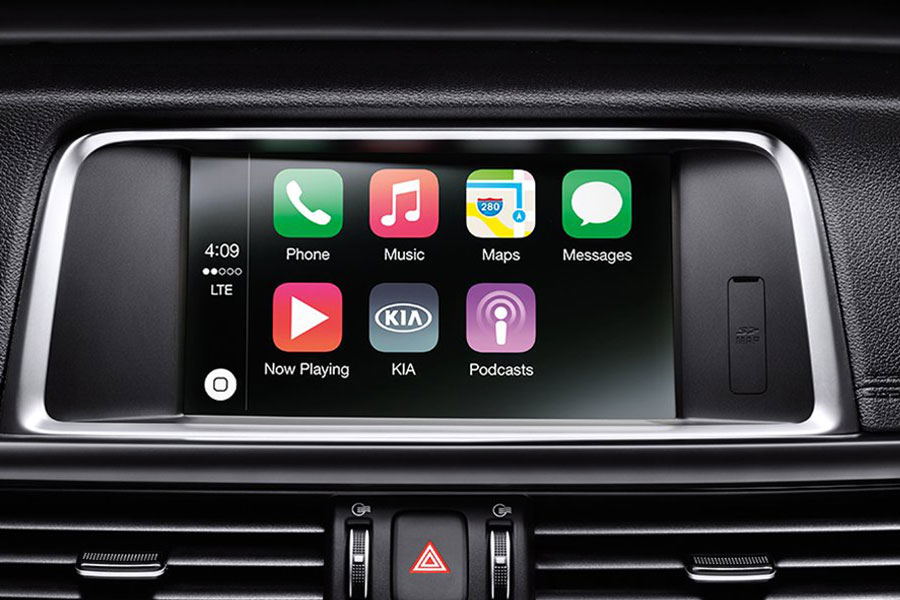 Infotainment Upgraded
Kia's UVO system has long received praise from critics. Well, this infotainment system just got better. Further improvements have made the UVO even more intuitive. All options are now broken down into easy-to-understand tiers. And they really do make sense, as a few minutes of "test-driving" the touch screen will show. Kia still offers Apple CarPlay and Android Auto.
UVO now has tiers of its own. UVO play uses USB to connect your smartphone to the audio, and is controlled by driver voice command. UVO link adds on-demand vehicle diagnostics and maintenance alerts. Finally, UVO link with Navigation throws in Points of Interest and Map Care, and two free map updates a year.
With nigh unbeatable fuel economy, great warranty and reliability ratings, upgraded to the already-outstanding infotainment system, and safety technology for all, it's easy to see why the Optima Hybrid has plenty of appeal.