2019 Kia Optima vs Toyota Camry
2019 Kia Optima vs Toyota Camry
You can treat your family to smooth-riding comfort and street-smart technology in both the 2019 Kia Optima and Toyota Camry. But which mid-size sedan should you choose? Our comparison guide is here to help you make the right decision.
Comfiest Family Hauler: 2019 Kia Optima
Whether you plan to spend hours traveling the highway or transporting your kids around town, the 2019 Kia Optima is the best pick for cabin space and supportive seating. In addition to giving your brood room to grow, the Optima keeps everyone snug in its soft-yet-supportive seats. This mid-size sedan also features standard Apple CarPlay and Android Auto smartphone integration, so you can call home or listen to your text messages without getting distracted from the road.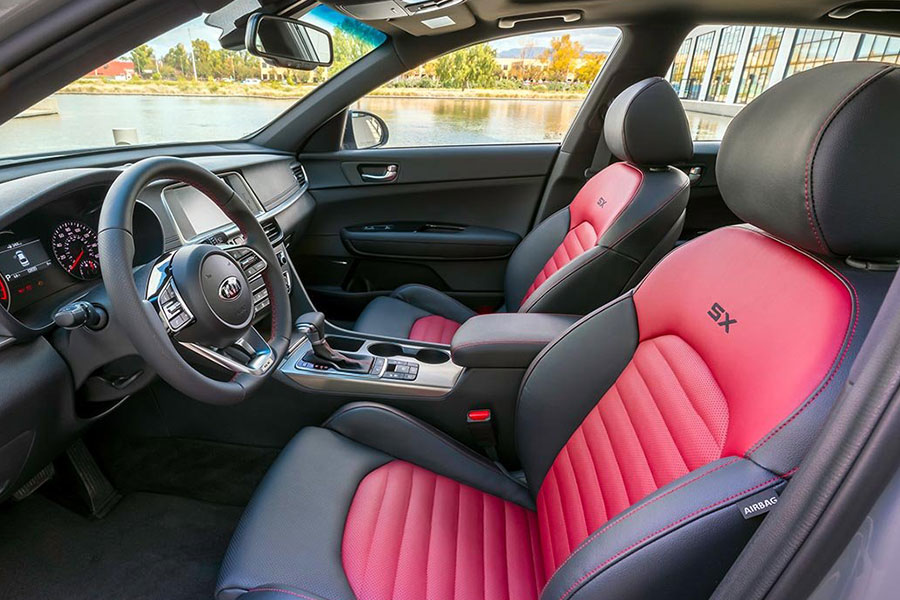 The 2019 Toyota Camry delivers all the basics, including a spacious cabin and a versatile driver seat to suit all shapes and sizes. The Camry's infotainment controls are easy to handle, so you can keep your main focus on traffic. However, although the Camry offers Apple CarPlay and Amazon Alexa connectivity, Android users won't find Android Auto connectivity.
Longest Warranty Coverage: 2019 Kia Optima
If you're looking for a dependable ride, put the Optima at the top of your list. When you buy a brand new Optima, it comes with a 10-year/100,000-mile limited powertrain warranty to keep you chugging along for years on end. The Optima's basic warranty is equally impressive, giving you five years' or 60,000 miles' worth of coverage.
New Toyotas don't offer quite as much warranty coverage. (http://toyota.custhelp.com/app/answers/detail/a_id/7683/~/what-warranty-coverage-do-i-have-on-my-new-toyota-vehicle%3F) The new Camry's basic coverage lasts for 36 months or 36,000 miles, whichever comes first. The limited powertrain warranty goes for 60 months or 60,000 miles.
Best Standard Safety Lineup: It's a Tie!
The Toyota Safety Sense package is standard equipment on every single Toyota Camry. This bundle actively helps you avoid danger, thanks to technology like forward collision warning with automatic emergency braking. Safety Sense also includes lane departure alert with steering assistance to keep you from veering off track.
However, the 2019 Kia Optima also comes standard with these lifesaving features. No matter which Optima trim model speaks to your budget, you can count on forward collision warning and mitigation and lane change assist technology to help you avoid trouble.

Smoothest Ride: 2019 Kia Optima
For a refined highway ride tuned for maximum comfort, choose the Optima. You can also choose from three engine options to adapt your performance for maximum fuel economy or premium speed. The Optima is also pretty thrifty, earning up to 27 city/37 highway mpg.
The Toyota Camry definitely has fuel economy going for it, delivering up to 29 city/41 highway mpg. It, too, offers a couple of engine options, so you can choose the one that best suits your need for speed. However, we just wish the Camry felt a bit more refined on rough pavement.
The Camry might have a standard suite of safety features, but the 2019 Kia Optima leaves it in the dust with its excellent warranty coverage, fuel economy, and cabin comforts. When you test-drive yours, we think you'll agree that the Optima is the right mid-size sedan for you.