2019 Kia Sorento vs 2018 Kia Sorento
2019 Kia Sorento vs 2018 Kia Sorento
When you walk onto the dealership lot, how do you know which version of the car you're interested in is the best choice? When you encounter two model years, you might feel confused--or even prone to choose the newest as best. Is that always true? Let's put the 2019 and 2018 Kia Sorento side by side to test that theory. The 2019 isn't a complete redesign of this popular mid-size sport utility vehicle, but a notable refresh. How do the 2019 and 2018 Sorento stack up to each other? Which is better? And what exactly has changed?
Transmission: 2019 Kia Sorento
The 2019 Sorento offers the same base and alternate engines as the 2018 model: a 2.4-liter inline-four and available 3.3-liter V-6 respectively. The big change is an all-new transmission. The six-speed transmission has gone away to make room for a continuously variable transmission (CVT). In other words, say hello to a smoother ride, better gas mileage, and a quieter ride. The fuel economy improves by 1 or 2 miles per gallon over the 2018 model. The CVT is available with the base engine, while the 3.3-liter engine is mated to a new transmission with two new gears, making the 2019 Sorento an eight-speed automatic. If none of those options sound appealing, there's a diesel Sorento option coming later in the year.
Meanwhile, the 2018 Kia Sorento offers only a six-speed automatic. The 2018 Sorento is not fiery like a sports car or drab like a cheap sedan. It's paired with either a turbo 2.0-liter four-cylinder or a 3.3-liter V6 engine. Between the two, we recommend the 3.3-L for more aggressive acceleration and power. But given all our options, we recommend the all-new CVT or 8-speed transmission on the 2019 model. It's just better, by design.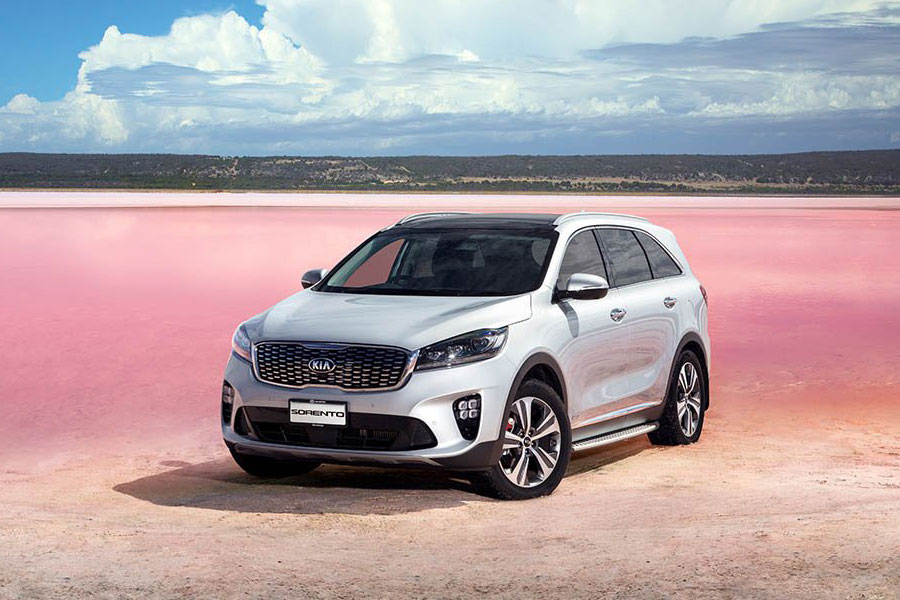 Styling: 2019 Kia Sorento
More modest updates have been made to the exterior. The LEDs have shifted and moved. Turn signals now sit squarely beneath the headlights while the fog lights are smaller while still maintaining their brightness. Rear liftgate and tail lights in back look trimmer and more sophisticated. On the inside, there's a four-spoke steering wheel, new intuitive cluster design, and other small adjustments that only heighten the luxury look of this bargain SUV. Three-row, seven-seat Sorentos are now the standard.
The gap between 2018 and 2019 in terms of styling isn't as great as other categories. The 2018 is still an attractive vehicle, with a three-spoke steering wheel, optional third row, and an emphasis on ergonomic design. The 2018 Sorento is one of the roomiest in its class, a characteristic that didn't change from 2018 and 2019. The 2018 Sorento isn't quite as user-friendly but, being a interior-centric Kia, the Sorento is still ahead of most of its competitors. The 2019 Kia Sorento may win in the styling department, but just by a bit.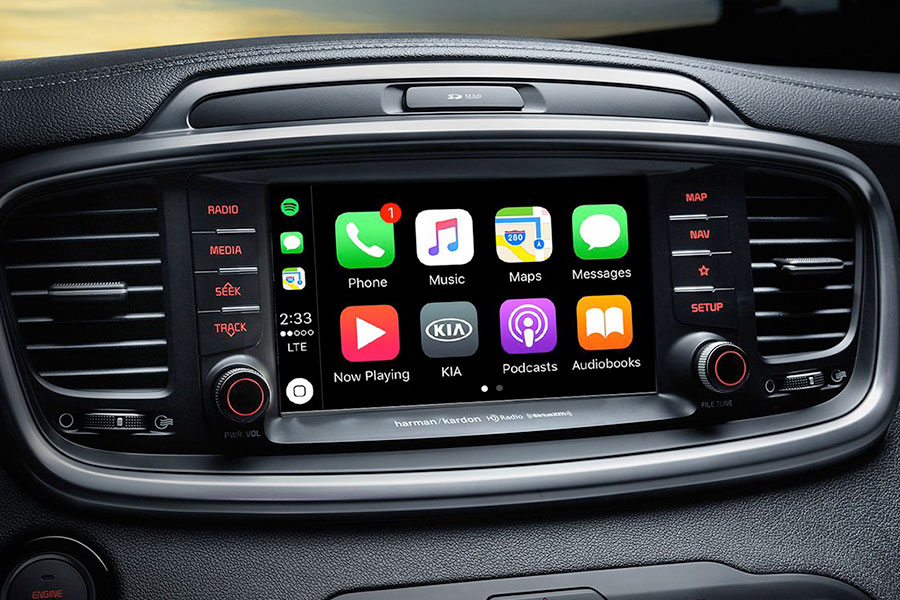 Technology: 2019 Kia Sorento
No matter the trim level, you won't find a display screen smaller than 7 inches, which expands to 8 inches in upper trims. Kia has also thrown in lane-keeping assist and driver attention warning to its already wide assortment of safety tech options. Thanks to a new user-friendly cluster design, all controls are easy to reach and use. You can tell Kia has done their homework because working the controls feels effortless.
The 2018 Kia Sorento has a bevy of tech features, including 4.3-inch infotainment display, navigation, Android Auto, Apple CarPlay, dual rapid-charge USB ports, 10-speaker surround-sound audio system, rear parking sensors, rear cross traffic alert, blind spot detection, rain-sensing windshield wipers, surround-view camera, adaptive cruise control, lane departure warning, forward collision warning, autonomous emergency braking, and Dynamic Bending Light. That's more than a mouthful. Compared to the 2019, the base display is pretty cramped and, of course, the 2019 has only added more features.
Coming face to face with its recent past, Kia can pride itself on taking something that was already outstanding and asking itself where the 2019 Kia Sorento could still be improved. And improve the Sorento they did. Try the 2019 Kia Sorento on for size. We think you'll be glad you did.