2019 Kia Sorento vs Ford Edge
2019 Kia Sorento vs Ford Edge
Is it possible to get more for less? If you're buying a compact sport utility vehicle, the answer is yes. How about more seating, more passenger space, more towing capacity, and outstanding safety ratings for less money? If that sounds too good to be true, keep reading. In this comparison guide, we'll take a look at both the 2019 Kia Sorento and Ford Edge to see which SUV gives you more of what you want.
Pricing: 2019 Kia Sorento
The 2019 Kia Sorento continues to offergreat value. The Sorento starts at $26,980. For such a low price, this Kia SUV comes with a lot of goodies: keyless entry, cruise control, stain-resistant cloth upholstery, 17-inch alloy wheels, rearview camera, and new 7-inch touch screen infotainment system with Apple CarPlay and Android Auto along with Bluetooth. There are five other trim levels beyond the base, including LX ($28,480), LX ($32,280), EX ($36,580), SX ($40,980), and SXL ($45,680). As it turns out you can get the Sorento in a wide variety of configurations, spending as much or as little as you want.
By comparison, the 2019 Ford Edge has only four trim levels, the most affordable of them going for $30,990. Obviously, that's more expensive than the base Kia Sorento. A quick look at the list of standard options shows that LED headlights and standard Wi-Fi hotspot account for the price difference. It's notable that the Ford Edge now offers a host of new standard safety features, but they are feature the Sorento already offered. The Edge's other trim levels are the SEL ($34,085), Titanium ($39,545), and ST ($43,350). The Sorento has a higher price ceiling, but we chalk that up to a wider variety of choices.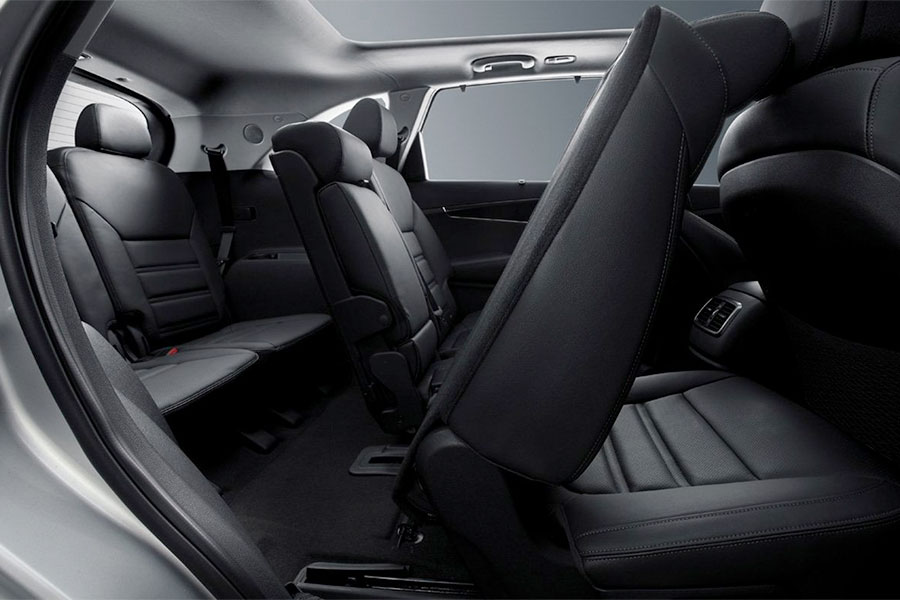 Seating and Passenger Space: 2019 Kia Sorento
It's a little surprising that, though the Sorento and Edge are virtually the same length, the Sorento has more seating and more passenger volume while boasting about the same amount of available cargo space as the Edge. The Sorento seats up to seven on three rows of seating. There's comparable head and leg room on both these SUVs on both the front and second row of seats. We can't make that comparison on the Edge because this Ford doesn't offer a third row.
Obviously, without a third row, the 2019 Ford Edge offers more cargo space when all the seats are folded up. But compare the Edge's 39.2 cubic feet of cargo room to the 38 cubes in the Sorento with its third row folded down, and they're just about even. When all the seats are down, there's 73.4 cubic feet of storage in the Edge and 73 cubes in the Sorento. If you ever have need of a third seat, the Sorento is better overall, and has just as much cargo space when you need that instead.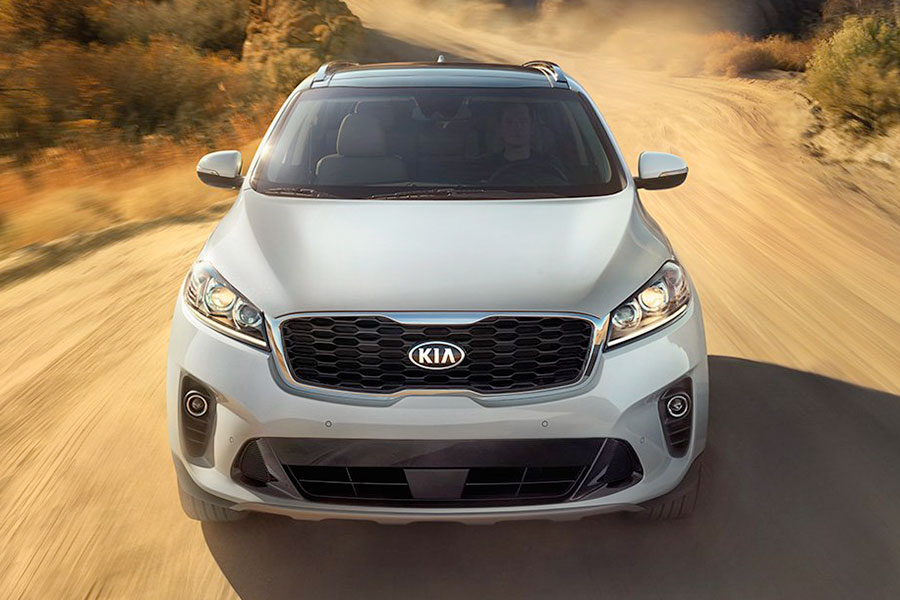 Towing Capacity: 2019 Kia Sorento
Ford has made a name for themselves as a rugged hauler and towers because of their F-series trucks. But in the compact SUV class, it's a different story. The 2019 Kia Sorento takes the cake, towing up to 2000 pounds, when properly configured. The Ford Edge pulls some weight, but not as much, mustering 1,500 pounds, when configured.
It turns out you can get more for less. We're wrapping up this comparison, but we'd be remiss if we didn't mention the Kia Sorento's five-star crash test ratings. That's not just five stars overall, it's five stars in every category, everything from frontal crashes to rollovers. Kia has made it easy to recommend the Sorento.