2019 Kia Sorento vs Honda Pilot
2019 Kia Sorento vs Honda Pilot
So, you have a growing family. That means time and money have to stretch, your kids need to be safe, and sometimes you just need a break. Kia hears you and has made the 2019 Sorento three-row crossover with consumers like you in mind. We'll pit the Sorento against another popular three-row SUV, the Honda Pilot, to give you a taste of what we mean.
Price: 2019 Kia Sorento
You're prepared to spend as much money you need for quality, but not a penny more. We get it. That's why you'll be pleased to know that the 2019 Kia Sorento, starting at $25,990, represents real value. For that low price, you get a seven-seater crossover with a base 185-horsepower four-cylinder engine, six-speed automatic transmission, and front-wheel drive. Standard features include Bluetooth, USB, Android Auto, Apple CarPlay, six-speaker audio system, rearview camera, and the stellar UVO infotainment system with 7-inch touch screen.
For reference, the 2019 Honda Pilot starts at $31,450. For that price, you can get a Sorento stepped up one trim level, plus the V6 engine. The Pilot has about the same standard features as the Sorento, such as six-speed automatic transmission and front-wheel drive, push-button start, Bluetooth, two USB ports, seven-speaker audio system, and 5-inch display screen. So, the Pilot gives you the same transmission, smaller display, and no smartphone integration. At least there's an extra USB. For our money, we'd stick with the Sorento.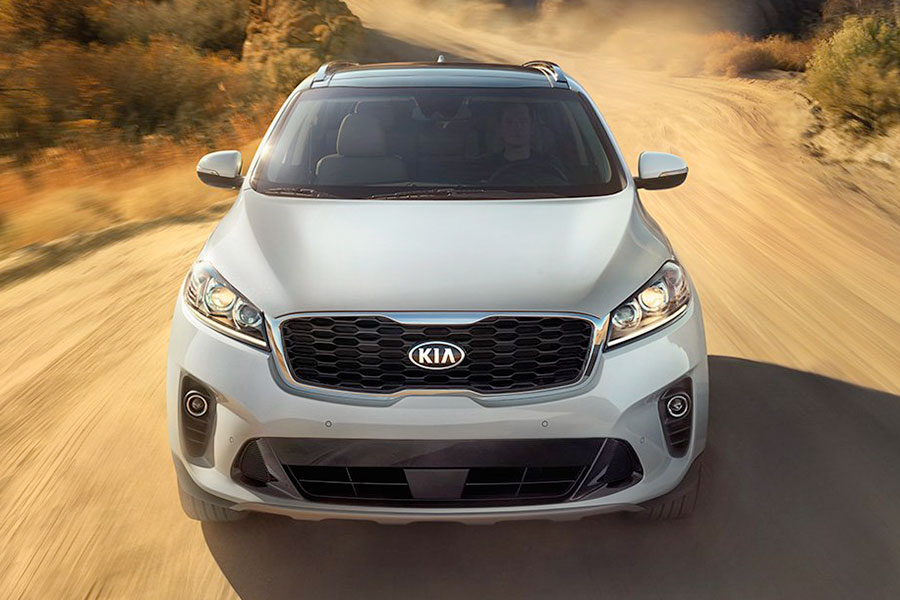 Fuel Economy: 2019 Kia Sorento
There's another way to save with the Sorento: at the gas pump. The Kia Sorento is just as big and has just as many rows of seating, but weighs a couple hundred pounds less. That helps the Sorento when it comes to fuel economy. The standard Kia Sorento with its base engine gets 22 city miles and 29 highway miles per gallon. That ought to save you some money. And fewer stops at the pump will save you time as well.
By comparison, the 2019 Honda Pilot gets 20 city miles and 27 highway miles per gallon, at best. The starting model actually does a little worse, knocking the city miles by 1 mpg. The Honda Pilot is a little thirstier, showing that the Kia Sorento saves you money in more ways than one.
Safety: 2019 Kia Sorento
When you have a carload, you want to make sure each family member is safe. Both the Kia Sorento and Honda Pilot have great safety scores, but the Sorento's are slightly better. In 2018, the Insurance Institute for Highway Safety (IIHS) gave the Sorento top marks and named this Kia a Top Safety Pick Plus. And this year, the National Highway Traffic Safety Administration (NHTSA) gave both the front- and all-wheel drive Sorento variants five stars for safety. On top of that, the Kia has tons of active safety features, starting at the LX trim, including front and rear parking sensors, surround-view camera, blind spot monitoring, rear cross traffic alert, adaptive cruise control, forward collision warning, automatic emergency braking, pedestrian detection, lane departure warning, lane keeping assist, and driver drowsiness monitoring. What more could you want to keep you and yours safe?
The 2019 Honda Pilot also fares well in this category. The Pilot earned five stars from NHTSA and the highest marks in five of six safety tests, though scoring only 'Acceptable' on the passenger-side front overlap test, which measures how well the Pilot does against a narrow object like a pole or tree. The Pilot has comparable active safety features to what the Sorento offers, so this category is another win for the Sorento, albeit a narrow one. But starting at a lower price, having better safety scores, and better gas mileage, the Sorento has more of what a growing family needs.