2019 Kia Stinger
2019 Kia Stinger
The 2019 Kia Stinger is as fast as it is sleek and stylish, surpassing the competition in every way but one: its price tag.
What's new for the 2019 Kia Stinger?
The sporty 2019 Kia Stinger is taking street smarts to new levels. Blind-spot monitoring and rear cross-traffic alert technology are now standard equipment. This safety technology alerts you to obstacles as you switch lanes or back out of a spot in a busy parking lot, actively helping you avoid an accident.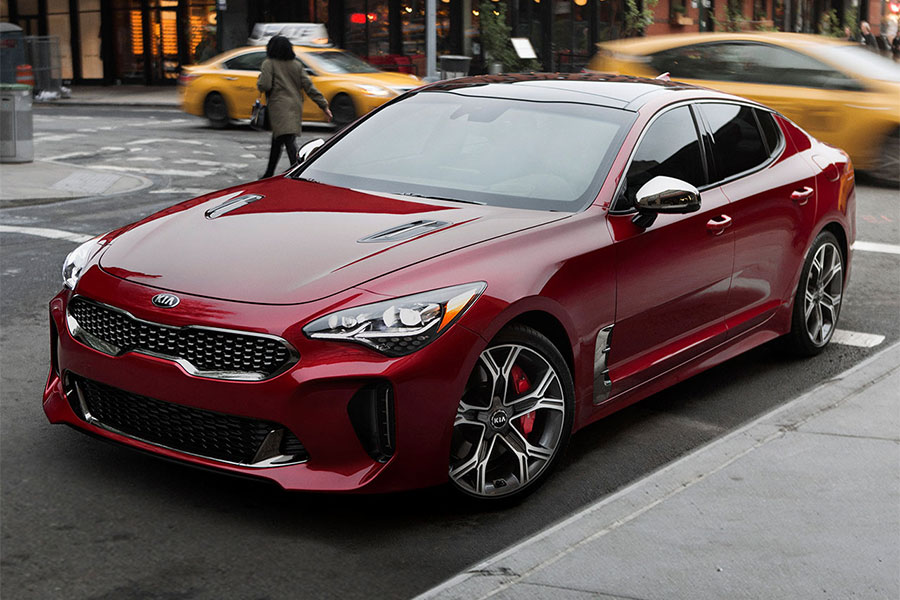 On the upper Premium and GT1 trim models, you'll find a full suite of standard safety aids to help keep you out of trouble. These include the forward collision mitigation system, technology that automatically hits the brakes when it senses an oncoming crash.
This year, the rear-wheel-drive Stinger GT features a standard mechanical limited-slip differential. This hardware boosts overall traction, enhancing the GT's high-performance ride as you take on sharp turns and curving highways. Previously, shoppers needed to upgrade to the GT2 to enjoy this feature.
What are the 2019 Kia Stinger trim levels?
There are five Stinger trims, each of which expands the comfort, convenience, and performance lineup to enhance your daily drive.
Base: The base Stinger gives you a lot for your money. Conveniences like keyless entry and ignition help you breeze through a busy day. Inside, leather upholstery and dual-zone automatic climate control give you the luxury treatment. The base Stinger also features the full gamut of infotainment features, from its responsive 7-inch touchscreen to the latest in smartphone integration with Apple CarPlay and Android Auto.
Premium: With extras like LED headlights and a power-adjustable steering wheel, the Stinger Premium enhances your on-road experience. High-tech upgrades, like the 8-inch touchscreen and a 15-speaker Harman Kardon audio system, treat you to an enhanced infotainment experience all around.
GT: This Stinger is equipped like the base model, but it adds a long list of performance gear and a turbocharged V6 engine to appease speed freaks. Equipment like Brembo brakes and launch control offer increased driver control.
GT1: To combine the GT's high-performance features with the Premium's luxurious lineup, choose the Stinger GT1. This trim also adds auto-dimming exterior mirrors to reduce glare as you travel the midnight highway.
GT2: The GT2 adds to the GT1 lineup with a few exclusive features. These include premium leather upholstery and ventilated front seats to take interior comfort to new heights. The GT2's head-up display projects vital performance stats onto the windshield so there's no need to look down.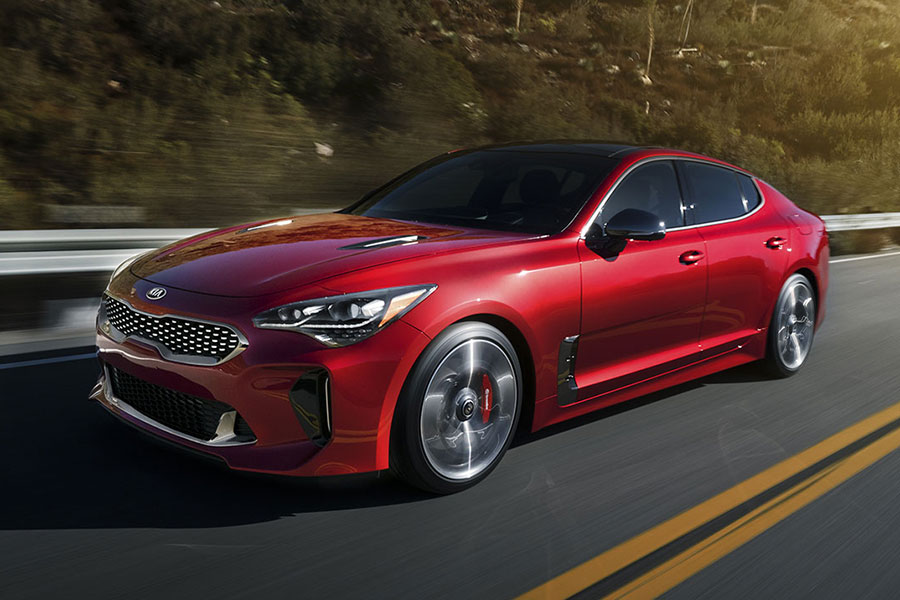 What's the 2019 Kia Stinger horsepower?
You can choose between two different engines for your Stinger, both of which are designed to deliver impressive speed.
The base engine is a turbocharged 2.0-liter four-cylinder that helps you kick up dust with 255 horsepower and 260 pound-feet of torque. With its eight-speed automatic transmission, this powertrain is quick to respond to requests. Although rear-wheel drive is standard, you can add all-wheel drive for increasing athleticism.
If you crave blazing speed, check out the Stinger GT. This Stinger puts its turbocharged 3.3-liter V6 to good use, generating 365 horsepower and 376 pound-feet of torque. In addition to increased power, the Stinger GT goes all out, delivering high-performance gear to enhance driver control. Brembo brakes, adaptive suspension dampers, and launch control are just some of the performance upgrades the GT delivers.
When will the 2019 Kia Stinger be available?
The 2019 Stinger is available now! Visit us to test-drive Kia's sleek new muscle car. You don't have to take our word for it - you can experience the Stinger's rich comfort, modern tech features, and world-class performance in person.