2019 Kia Stinger vs 2018 Kia Stinger
2019 Kia Stinger vs 2018 Kia Stinger
The very first generation of the new Kia Stinger debuted just last year, so we wouldn't expect the 2019 model to be very different. This affordable four-door fastback is the latest of a Kia company that has quickly reinvented themselves for the better. After shoring up their base, Kia is now ready to take a few chances. And the Kia has certainly paid off. In this comparison, we'll show you how the 2019 Kia compares to its 2018 predecessor.
GT Atlantica Limited Edition
The biggest news but the one that'll only affect a lucky few is the debut of the GT Atlantica Limited Edition. In celebration of the global team that made the Stinger a reality, this limited run will only number 500 copies. The GT Atlantica will bear a hodgepodge of features that can only be found on foreign models. Most of the GT Atlanticas will be gobbled up by collectors, but should you be fortunate enough to get one, you'll enjoy 19-inch wheels, badging on the rear deck lid, a unique blue paint color, Espresso Brown Nappa leather upholstery and black suede-style headliner, wireless phone charger, Surround View Monitor, and heated rear outboard seats, and special badging on the front center console.
Again, the GT Atlantica Limited Edition is such a small run and spread out over so many markets, you may not be able to find this limited edition model in your area. You're incredibly lucky if you get one. So what does 2019 bring for the rest of us?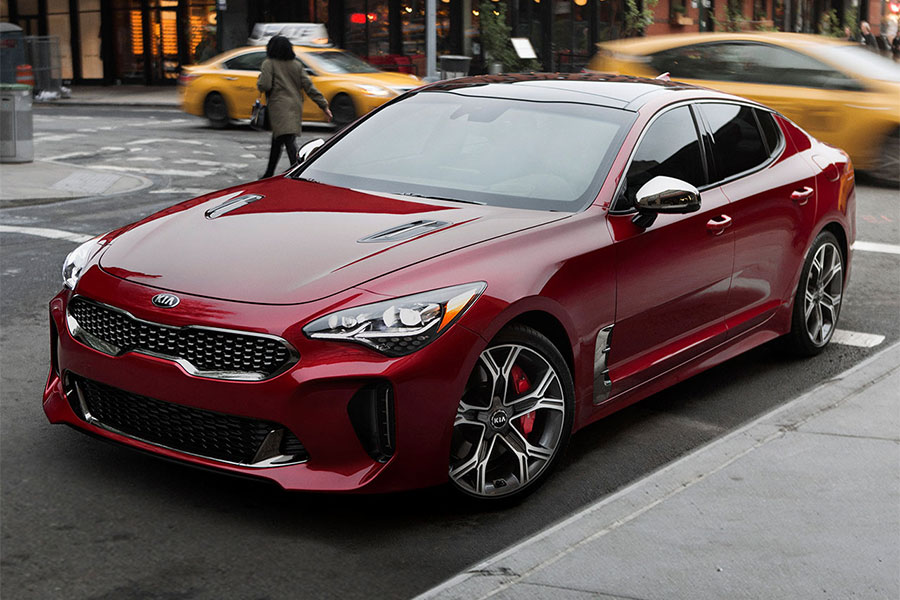 Two New Colors
In 2019, Kia adds Metallic Blue to the lineup of Stinger paint colors. This high-octane hue is sure to turn heads when paired with the sleek styling of the 2019 Kia Stinger. The metallic blue joins the other paint options of Snow White Pearl, Panthera Metal, HiChroma Red, Micro Blue Pearl, and Aurora Black Pearl. Each one comes with either a black leather interior with any exterior paint job or light gray interiors on the white and gray exterior options.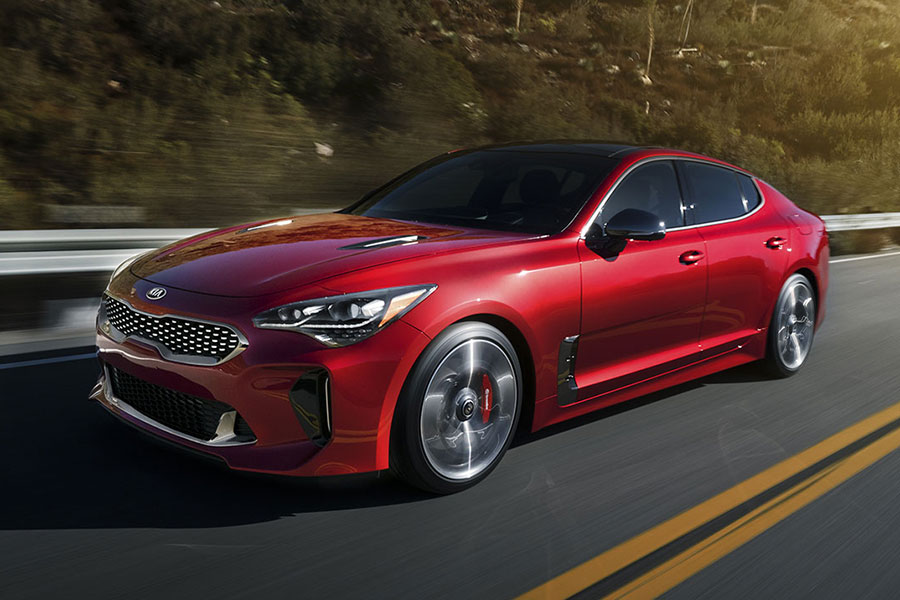 New Options
In 2018, navigation was an option on three of five trim levels. Now navigation is available on all of them. This voice-command navigation is hosted on an 8-inch touch screen display on the center console. Navigation comes standard on the Premium, GT1, and GT2 trim levels.
On top of that, each and every 2019 Kia Stinger model gets blind-spot monitoring and rear cross-traffic alert standard. These life-saving systems come at every price point. Blind-spot monitoring lets you know when a vehicle is next to you, cutting down on accidental side collisions while changing lanes. Rear cross-traffic alert turns on when you put the Stinger in reverse. This system detects traffic crossing your path as you back up. If there's an oncoming car, this system gives both audible and visual alerts to keep you from backing into a busy street.
The affordable Premium and GT1 models join the GT2 in offering all of the Stinger's available safety features. The Premium features are a shot in the arm for safety-minded consumers who don't want to pay an arm and leg for active safety features. On top of all that, the GT2 now also offers surround-view monitor and heated rear seats.
The changes to the Kia Stinger for 2019 are subtle, but warmly welcomed. Who wouldn't want more safety features, more color options, and more available options and standard features?