2019 Kia Stinger vs Genesis G80
2019 Kia Stinger vs Genesis G80
The Kia Stinger and Genesis G80 both debuted in 2017. Now in their third year of production, it's time to size them both up again. The Kia is a major manufacturer, the Stinger is a luxury car. And Genesis is Hyundai's luxury brand. But, interestingly, the Kia Stinger and similar Genesis G70 share the exact same platform. So what's the difference? In this comparison guide, we hope to show you which is a better value for those who enjoy a sporty sedan.
Price: 2019 Kia Stinger
Perhaps this is stating the obvious, the 2019 Kia Stinger is much more affordable than the luxury-brand Genesis G80. The trick is knowing which car gives you more bang for your buck. The Stinger starts at $32,900. For that price, you get a 2.0-liter turbo-four engine, 18-inch alloy wheels, proximity keyless entry, push-button start, rearview camera, blind spot monitoring with rear cross traffic alert, lane change assist, front and rear parking sensors, dual-zone automatic climate control, power-adjustable and heated front seats, leather seats, leather-wrapped steering wheel, two USB ports, Bluetooth, six-speaker stereo, satellite radio, Apple CarPlay, Android Auto, and UVO infotainment system with 7-inch touch screen. That's a lot, right? Let's see how the Genesis G80 compares.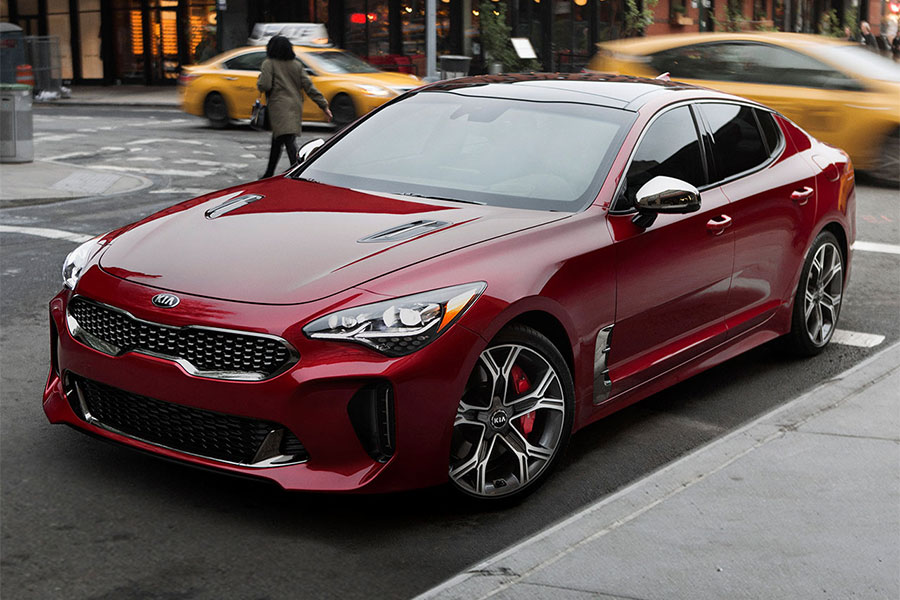 The base Genesis G80 starts at $42,050 and comes with 3.8-liter V6 engine, rearview camera, lane departure warning, lane keep assist, blind spot monitoring, rear cross traffic alert, adaptive cruise control, lane change assist, automatic emergency braking with pedestrian detection, hands-free trunk with auto open, proximity entry key, leather upholstery, heated front seats, leather-wrapped steering wheel and shift knob, two USB ports, seven-speaker sound system, Android Auto, Apple CarPlay, 4.3-inch driver-information display, navigation, 8-inch touch screen, push-button start, and real-time navigation information. As you can see, a lot of the features coincide. The Genesis G80 adds leather, boasts an engine with more horsepower, has a slightly bigger touch screen, and offers a few extra tech options. But is that really a 10-grand difference? From where we're sitting, the Stinger has the better value.
Fuel Economy: 2019 Kia Stinger
Exterior: 2019 Kia Stinger
Both the G80 and Stinger are sporty vehicles. But one plays the part and the other hides beneath its regal veneer. While the Genesis G80 looks stately, the Kia Stinger looks performance-oriented. Even the G80's sportiest trim doesn't look very sporty. Meanwhile, the Stinger Sport with its hood vents and side vents looks sporty, especially in fiery HiChroma Red. If you want to emulate the cars on TV going for long drives on leaf-strewn country highways, that's the G80. But if you want a car that turns heads, you want the Kia Stinger.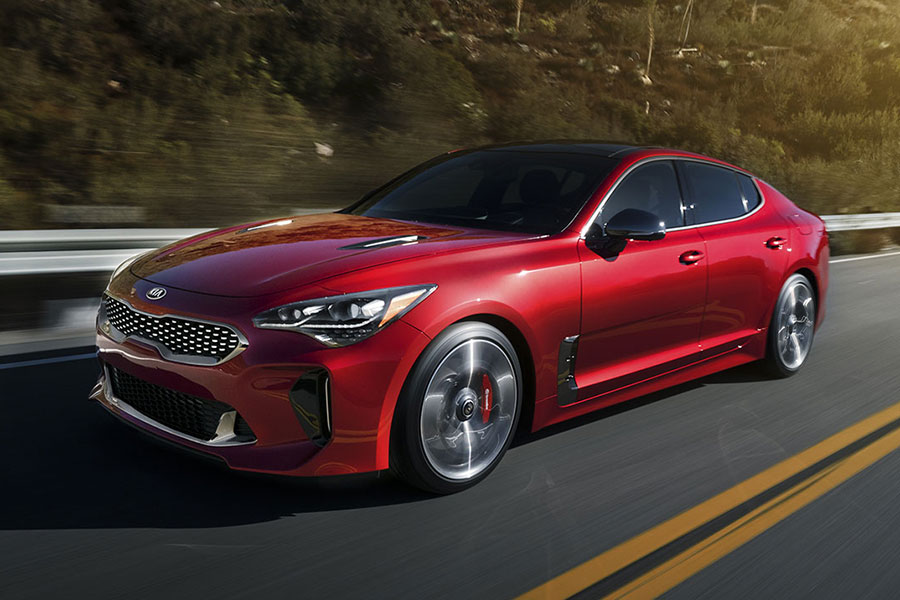 Proving that you don't really need to spend a fortune to get something that looks and runs great, the 2019 Kia Stinger is our pick between these two luxury cars.