2020 Kia Telluride vs Honda Pilot
2020 Kia Telluride vs Honda Pilot
The 2020 Kia Telluride and Honda Pilot deliver the classic mid-size crossover goods: three rows of passenger space, sturdy safety features, and sporty capabilities. But, when you look closer, only one of these models really stands apart - which isn't exactly easy in this competitive segment. Read on to learn more.
Stunning Safety: 2020 Kia Telluride
Not only does the Kia Telluride come standard with features that are costly upgrades for the Pilot, but it also offers safety features you won't find anywhere else in this segment. When you've got your mind elsewhere, for example, the rear occupant alert system keeps you from forgetting that you have rear seat passengers along for the ride--a system that can prevent tragedies. Then there's the second-row safe exit assist, which prevents kids from hopping out of the cabin and into the path of a moving vehicle.
We can't deny that these crossovers have a lot of safety features in common. Both offer front crash mitigation and blind spot monitoring - technology that actively helps you steer clear of danger. There's just one catch. These items don't cost extra on the Kia Telluride. If you want a Pilot that warns you of potential accidents, you're going to have to spend more.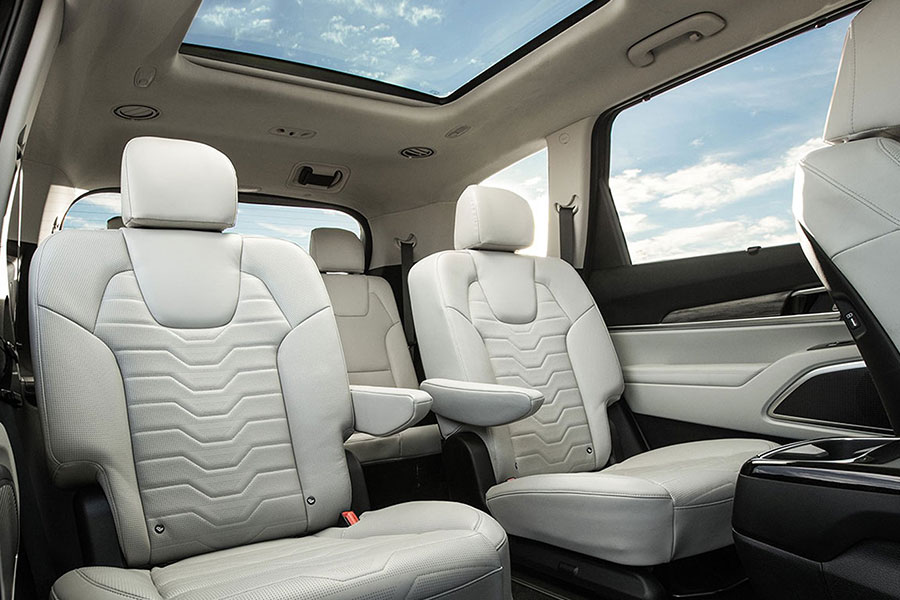 Three Rows of Luxury: 2020 Kia Telluride
Everyone already recognizes Kia as a quality leader. (https://www.jdpower.com/business/press-releases/2018-us-initial-quality-study-iqs) But the 2020 Kia Telluride is something entirely new for the automaker. This mid-size crossover aspires to outdo the competition in terms of luxury, style, and comfort - which it in fact does. (And that's no easy feat in this popular segment.) But we digress. Telluride cabin details, like the premium headliner and Nappa leather seat trim, will have you wondering if you've somehow stumbled into a pricey luxury crossover. Though there's plenty of luxury here - dual sunroofs, 64-color interior lighting schemes, ventilated front seats - you won't find any inflated price tags attached.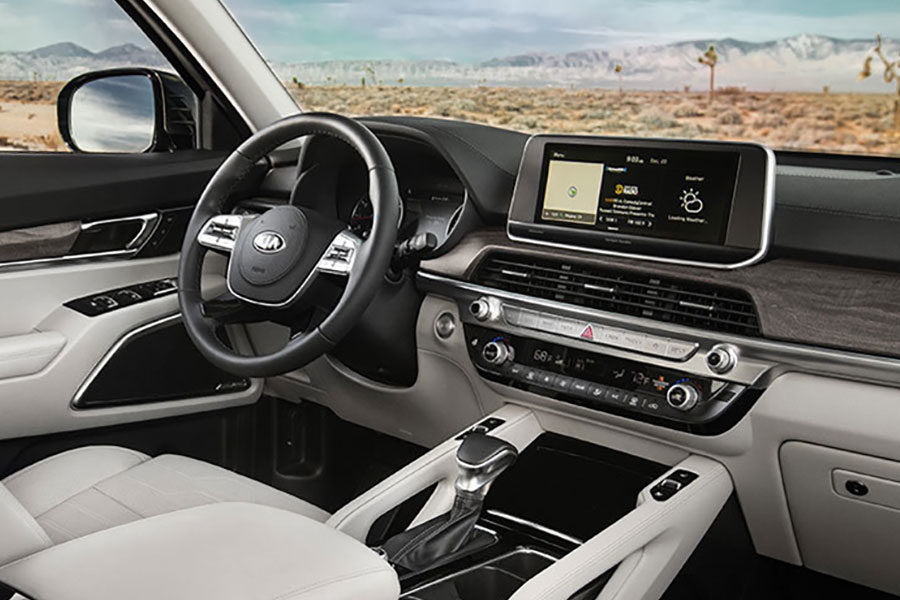 Back in the Honda Pilot, you'll find increasing luxury as you climb the trim levels. Depending on which trim you select, you can drive home in leather seats beneath a gorgeous panoramic sunroof. But, while it offers the usual upscale features, the Pilot lacks the kind of details (premium trim, every possible shade of mood lighting) that separate common crossovers from the true luxury cruisers.
The Latest Tech: 2020 Kia Telluride
Want standard USB charging ports in all three rows? An optional 10.25-inch touchscreen so big you'll never press the wrong infotainment icon? Then the Telluride's your crossover. Kia's standard infotainment system is loaded with Apple CarPlay and Android Auto for impressive hands-free access to smartphones.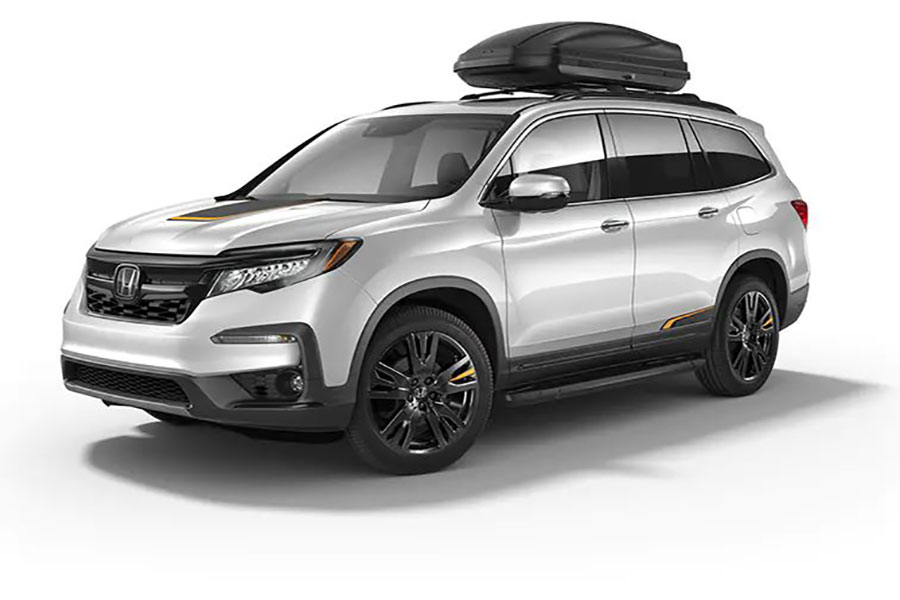 The Pilot offers a lot of these same features - though they don't come standard. You can upgrade to the mid-grade EX for Apple CarPlay and Android Auto. The upgraded Pilot touchscreen is 8 inches, which is pretty big compared to the standard 5-inch screen. Honda isn't known for its responsive touchscreens, which is unfortunate, because modern drivers don't really expect to have to deal with sluggish technology.
Weekend Warrior: It's a Tie!
Both the 2020 Kia Telluride and Honda Pilot are up for adventure. Add all-wheel drive to either and you've got a go-anywhere crossover for fun trips down the coast or down dirt roads. This same performance technology also means a safer, sportier ride back on the pavement. With their respective tow packages, both of these mid-size crossovers can tow up to 5,000 pounds. For most families, that's enough heft to get the boat to the beach, no problem.
The Honda Pilot is a punchy little crossover with some nice luxury features, but, let's face it, the 2020 Kia Telluride leaves it in the dust. (And we haven't even mentioned the Telluride's sculpted good looks. If this were a beauty contest, we wouldn't even be having this conversation.) We think you'll agree that the 2020 Kia Telluride is all the crossover you could ever want for your money.