2020 Kia Telluride vs Jeep Grand Cherokee
2020 Kia Telluride vs Jeep Grand Cherokee
In a hypothetical head-to-head competition, the 2020 Kia Telluride and Jeep Grand Cherokee would compete to be both the family-friendliest SUV and the most capable off-road adventurer. So which of these sturdy vehicles is ready for your next family trip? Our comparison guide has the facts.
The Most in Road-Trip-Ready Luxury: 2020 Kia Telluride
Why settle for a plain-Jane five-passenger SUV when you can have deluxe style and up to eight seats? With its supportive seating and optional high-end leather upholstery, the 2020 Kia Telluride is definitely where you want to be on an hours-long journey. The Telluride is also where your family wants to be. This all-new Kia crossover features class-leading rear seat accommodations, so no one's ever short on space. The third-row seats even recline, making it easier to take a refreshing nap.
No one can say that the Jeep Grand Cherokee isn't nice and comfy. This five-passenger SUV has plenty of space to go around. However, the Grand Cherokee puts less of an emphasis on luxury. If its modern design cues and handsome leather trim that you crave, look to the Telluride.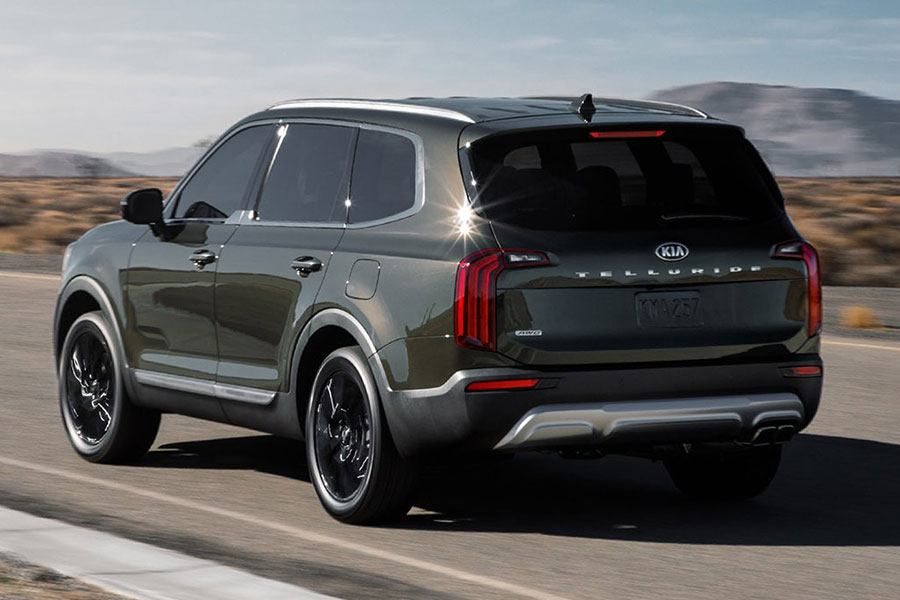 Inspiring Safety for the Whole Family: 2020 Kia Telluride
The Jeep Grand Cherokee offers all the usual safety suspects, (as does the Telluride). You know these systems by now. There's blind-spot warning to issue an alert when there's an unseen vehicle lurking behind you. The adaptive cruise control keeps track of how fast traffic is moving and automatically speeds up or slows down.
However, the all-new Telluride adds to the usual high-tech safety gear with some exclusive, family-friendly innovations. The rear occupancy alert system is standard on every Telluride. When you're having an especially harried day, this technology reminds you of passengers in the rear seats-that way you don't accidentally leave them in a sweltering cabin. The safe exist assist is another cool feature. When it senses traffic moving nearby, it secures the side doors to keep your kids from unwittingly jumping into danger.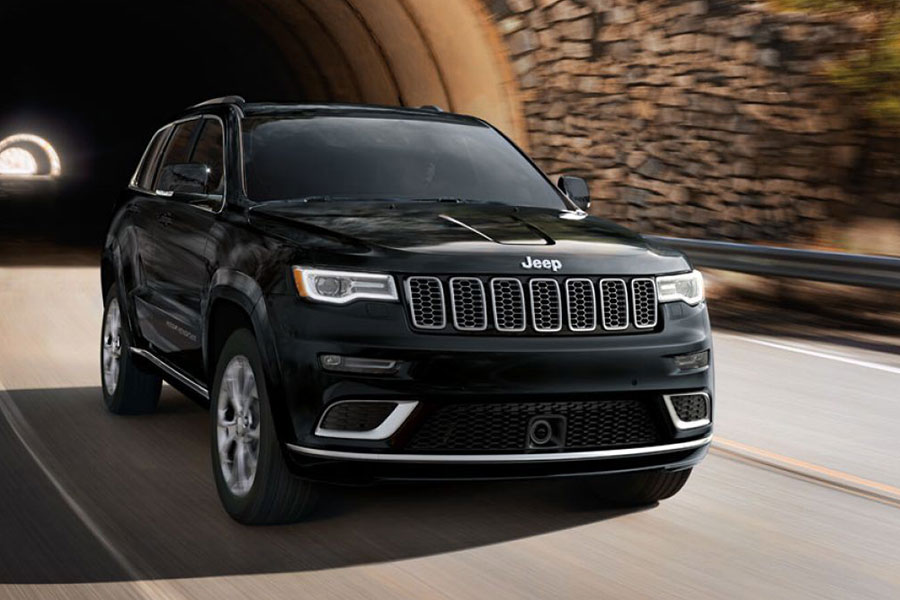 Heftiest Boat-Towing Skills: 2019 Jeep Grand Cherokee
For this segment, the Jeep Grand Cherokee has got some serious muscle. Properly equipped, this mid-size beast of an SUV can tow max loads of 7,200 pounds. If you need to tow something major, like a two-horse trailer or a king size boat, you might just need the Grand Cherokee. However, if your family boat is within the realm of normal-say, under 5,000 pounds-then a properly equipped 2020 Kia Telluride can handle it, no problem.
Best Social Skills: 2020 Kia Telluride
With its excellent tech lineup, the all-new Telluride is the crossover that does the most for your social life. Its five (or six in the upper EX and SX trims) USB ports are scattered over three rows of seating, so the ability to charge a device is always within reach. Each of these mid-size crossover SUVs comes standard with a user-friendly infotainment system that lets you use your smartphone hands-free, compliments of Apple CarPlay and Android Auto capabilities. If you so choose, you can upgrade from the 8-inch touchscreen to the colossal 10.25-inch widescreen version.
The good news about the Grand Cherokee's tech department is that Jeep, too, offers standard smartphone integration with Apple CarPlay and Android Auto. The Uconnect infotainment system is a fan favorite, thanks to its accessible menus and responsive 7-inch touchscreen (which you'll note is smaller than what's in the Telluride). The dearth of USB ports is a bit of a downer, though, especially when your family has devices to charge.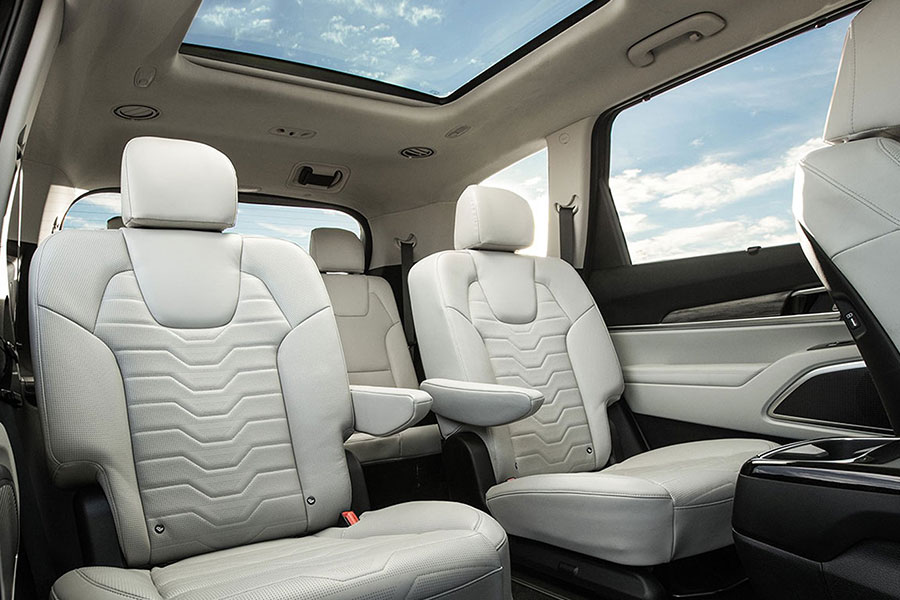 Best in Show: 2020 Kia Telluride
At the end of the day, the Telluride has all the best moves, from its kick-up-dust capabilities to its flair for family comfort. Even drivers who are somehow both outdoor adventurers and suburban parents of toddlers will find a kindred spirit in the Telluride.