2020 Kia Telluride vs Kia Sorento
2020 Kia Telluride vs Kia Sorento
Kia's mid-size crossover SUVs - the trusty Sorento and all-new Telluride - aim to please the entire family. Ultimately, though, they're made of different stuff. How different? Our comparison guide takes a look.
Telluride vs. Sorento: The Basics
An initial quality leader in the mid-size crossover segment, the Kia Sorento is a familiar beacon of reliable family transport. (https://www.kia.com/us/en/content/why-kia/leadership/awards/awards-2019-sorento) And, in spite of its famous quality, comfort, and space, the three-row Sorento comes at a better rate than segment competitors.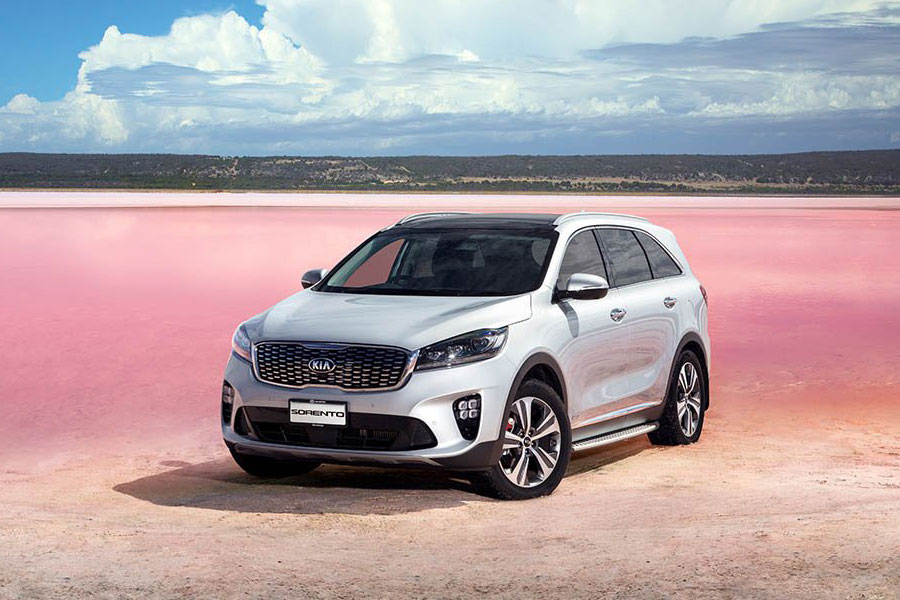 But the mid-size Telluride isn't just another Sorento. With its new takes on technology, versatility, and capability, this mid-size crossover is a level up on competitors like the Ford Explorer. The Telluride represents something totally new for the Korean automaker, and people are paying attention. It's also Kia's biggest crossover yet (literally and figuratively), so even tall families can expect extra wiggle room.
Balancing Luxury with Family-Style Comfort
Even if you've never been in a Sorento, you're probably already familiar with its rep for value. The Sorento cabin is decked out in Kia's famously high-quality materials. And its three rows of seating don't miss a beat, especially in terms of leg room and long-term support. The Sorento's seven passengers can even kick it in style, thanks to luxury options like leather seating and heated first- and second-row seats.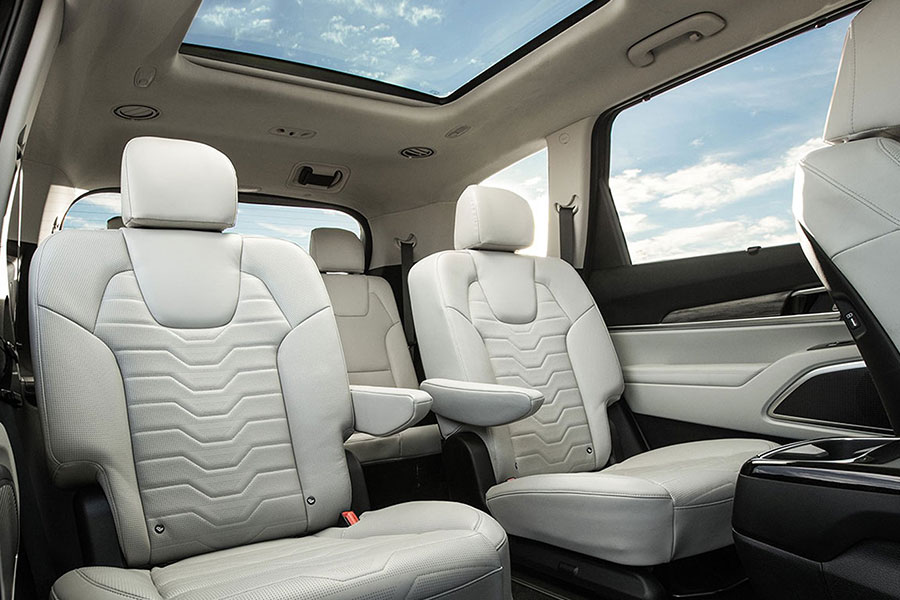 But the all-new Telluride builds on everything the Sorento has to offer. Instead of delivering quality at a budget price, the Telluride is a true class contender. It's positioned to draw in a whole new crowd, rivaling old favorites like the Ford Explorer and Honda Pilot for the comfort crown. Inside, you'll find luxury-brand details like 64-color ambient interior lighting and quilted and padded Nappa leather seat trim.
Taking Off-Road Performance to the Brink
Add all-wheel drive to your Sorento and you're in a good position for winter on-road safety and even some light off-roading. With the optional V6 engine (190 horsepower, 252 pound-feet of torque) the Sorento is an especially sturdy choice for outdoor adventure. It can even tow up to 5,000 pounds, which means more fishing trips for the whole family.
Designed in America and aimed specifically at American drivers, the Telluride is at home in the wild. When you're feeling especially rugged, the all-wheel-drive system's locking center differential helps keep you from getting stuck in the mud. And its standard V6 engine (no upgrade necessary) is even more powerful, with 291 horsepower and 262 pound-feet of torque, so you can plunder the off-road with boosted confidence.
Big Names in Safety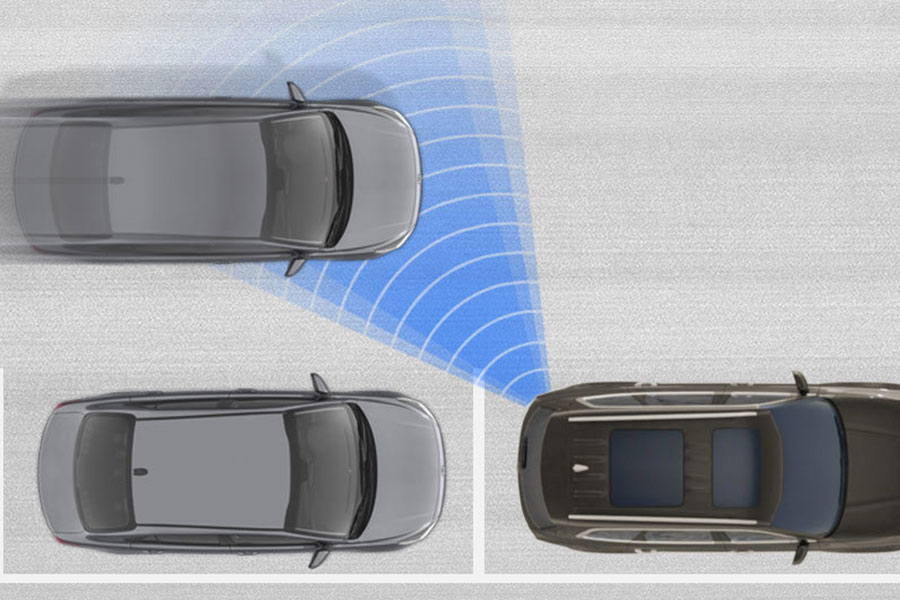 It's not due out till later this year, so we're still waiting on the Telluride's safety scores. What you can count on, though, is the Telluride's standard safety lineup. Each of these crossovers is fully loaded with what we'll call the usual vigilance boosters - forward crash mitigation, lane keeping assist, blind-spot collision avoidance, etcetera. But Kia's new crossover also has some class-exclusive safety features that cater to families. Before you leave the cabin, the rear occupant alert lets you know about any kiddos or pets still in the backseat. When the second-row safe exit system detects nearby vehicles in motion, it secures the side doors so your kids can't jump into harm's way.
Tech for the Whole Family
The Sorento is ready for the good times, with up to three USB charging ports and hands-free access to your phone via standard Apple CarPlay and Android Auto. Of course, being Kia's new flagship SUV, the Telluride does everything bigger and better. All three rows of seating have their own USB charging ports - six total - so passengers can stream their Netflix subscriptions and check their Snaps without fail. To the Sorento's 7-inch touchscreen, the Telluride answers with a huge 10.25 inch optional touchscreen (the standard version is 8 inches - still bigger).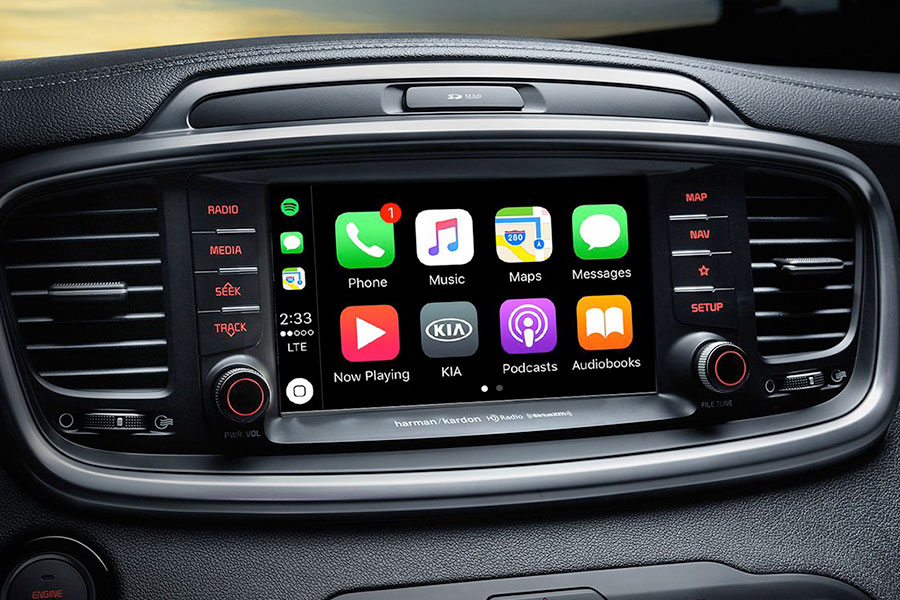 So, to conclude: the Kia Sorento offers best-in-class initial value and a great deal on family transport, while the Kia Telluride is a completely new kind of crossover for the brand. Both are proudly assembled in Kia's West Point, Georgia plant, though, which is probably where they get their knack for all-American comfort and performance.