2020 Kia Telluride vs Volkswagen Atlas
2020 Kia Telluride vs Volkswagen Atlas
Built for American families, the 2020 Kia Telluride and Volkswagen Atlas are all about space and versatility. But they're also undeniably stylish and high tech. How to choose between such shining examples of the mid-size crossover segment? Our comparison guide gets down and dirty.
Next-Level Luxury and Passenger Accommodations: 2020 Kia Telluride
Kia has a rep for initial quality and smart, accommodating cabins, but the Telluride is something else altogether with its Nappa-leather trim and 64-color ambient lighting system. (https://www.jdpower.com/business/press-releases/2018-us-initial-quality-study-iqs) Besides being more luxurious than the average Kia, though, this crossover easily outpaces the competition - even stylish rivals like the Atlas. Details like the dual sunroofs and premium headliner catapult it into luxury territory.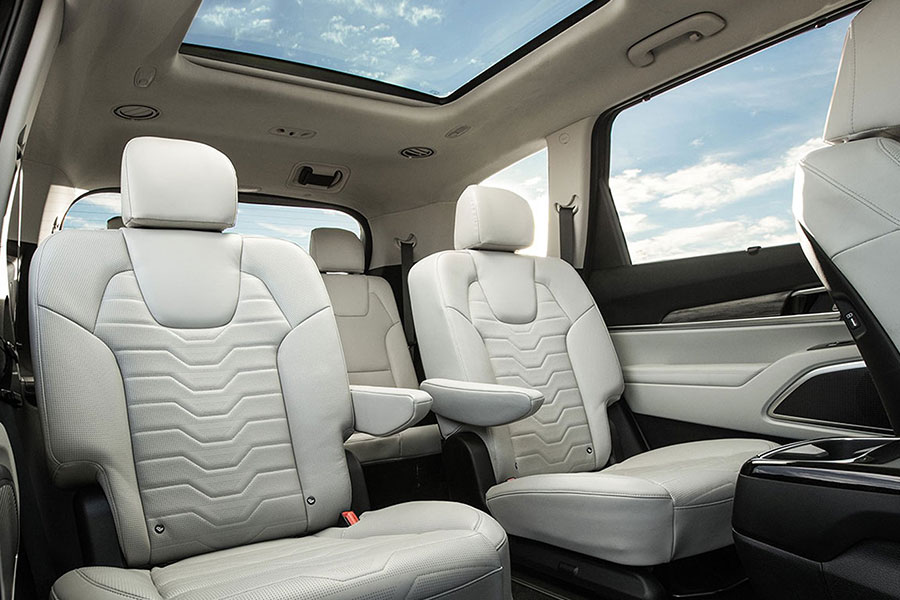 Of course, there's some overlap between the models. Both crossovers were designed with American families in mind. That means big-time space and cargo capacity. Unlike a lot of other mid-size models, the Telluride and Atlas supply adult-friendly leg room in all three rows. Cargo holds are also on the big side for the segment; both crossovers offer up approximately 21 cubic feet for your sporting goods and fancy camping equipment.
Sporting Safety: 2020 Kia Telluride
The Telluride has thought of safety features that have yet to occur to other mid-size crossovers, including the Volkswagen Atlas. Best of all, they're all standard equipment. The rear occupant alert system, for instance, is designed to keep you from accidentally locking kids or pets inside a hot cabin. The second-row safe exit assist detects vehicles in motion, and it secures the side doors to keep enthusiastic kids from accidentally jumping into harm's way.
In terms of helping you skirt danger, though, the Volkswagen Atlas follows close behind. Both the Telluride and Atlas come standard with safety systems designed to mitigate damages or even pull you up short of an accident - like lane-keeping assist and forward collision avoidance.
Connectivity for the Whole Family: 2020 Kia Telluride
This is another category that was almost too close to call. That's because both crossovers offer USB charging ports in all three rows - which, let's face it, modern road trips really shouldn't be without. The Telluride and Atlas also grand hands-free access to smartphones, compliments to standard Apple CarPlay and Android Auto technology. We all want to know who is texting us, and now we can figure it out without even a glance away from the road.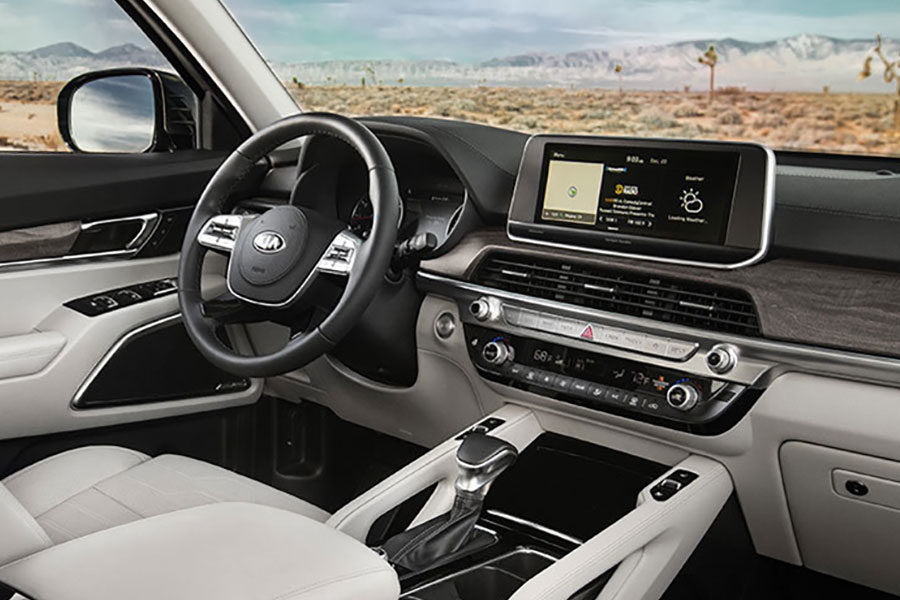 But the 2020 Telluride builds on the Atlas's offerings with some cutting-edge options. Its 10.25-inch touchscreen is a good example. With so much touchscreen, it's basically impossible to fat-finger the wrong app. You can even operate the system out of the corner of your eye, paying strict attention to the road. The biggest touchscreen you'll find on the Atlas is 8-inches - the same size as the Telluride's standard version.
Some Telluride innovations cater to families in particular. The Driver Talk system makes it easy to convey to rear passengers whether or not you're there yet - no need to yell. If your kids are immersed in their own entertainment options in the rear seats, you can flip the stereo system into Quiet Mode, so it only plays on front speakers.
American-Style Utility: It's a Tie!
Both the 2020 Kia Telluride and Volkswagen Atlas were designed especially for American drivers, and it shows. For starters, these crossovers can tow max loads of 5,000 pounds. That's a pretty nice sized boat. But they also impress in off-road territory.
The Telluride and Atlas feature all-wheel-drive systems with center-locking differentials, giving you both grip on-pavement action and security on dirt trails. The Atlas's clever stability control system imitates locking front and rear differentials, keeping you from getting stuck in the mud. Back in the 2020 Kia Telluride, drive modes like Snow, Sport, and Smart alter performance settings accordingly, giving you your desired experience.
We're all in on the 2020 Kia Telluride, due at dealerships later this year. Not only does this mid-size crossover represent something totally new for the Korean automaker, but it's also consistently leaving rivals in the proverbial dust.