Should I Lease or Buy?
Should I Lease or Buy?
Should you lease or buy a brand-new Kia? That question is key for most buyers, who may not be sure which option benefits them (and their credit, budget, and lifestyle) most. Really, your choice will come down to your preferences, because both options offer a tremendous amount of value and the opportunity to drive a brand-new Kia.
The Benefits of Buying a New Kia
When you buy a vehicle, your game plan is to keep the vehicle for a long time. Maybe you're looking for a vehicle that can grow with you and your family, a vehicle that can transition to a first car for a new driver, or a solid, dependable commuter vehicle. If that's the case, a new Kia can fit the bill. You get plenty of benefits from owning your vehicle, including the ability to customize it to your liking and not worry about mileage or wear and tear on the interior, which are things that leases regulate. If you want a long-term love affair with your vehicle, buying a Kia may be the way to go.
When you own a vehicle, you're normally financing it. Kia offers a number of incentives that allow qualified buyers to find outstanding deals. You'll likely be responsible for a down payment (which can come in the form of a trade in) and will then pay regular monthly payments for the life of your loan (which could be up to six years). During that time, if you make sure to keep up with regular maintenance and dealer-recommended mileage benchmark services (like a 50,000 mile or 100,000 mile check up), you'll add value to your vehicle and keep it running well.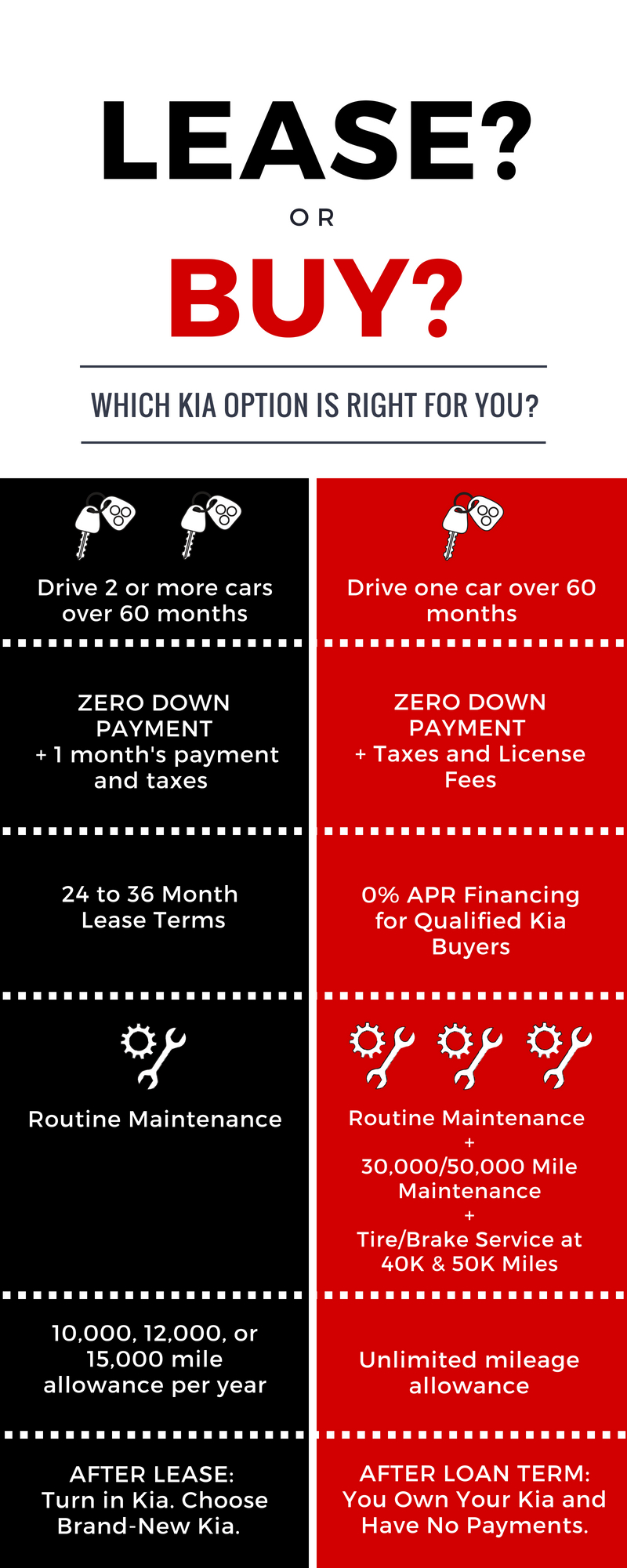 The Benefits of Leasing a New Kia
Leasing is also a good option for buyers who love the idea of driving a new car. If you're inclined to trade in your car frequently or are wooed by the idea of driving the newest Kia right off the lot, leasing gives you the opportunity to do that in a way that makes sense. With a lease, you'll agree to a certain time period (usually 24 or 36 months) and certain requirements, including how many miles you can drive per year, in return for a lower monthly payment that you'd have when you're buying a car. Why are the payments lower? Because you'll turn in the car at the end of the lease, so you're paying for the use of the vehicle during the time you have it, not for the total price of the car.
When you lease, you're responsible for the first month's payment and taxes and fees when you sign the paperwork, along with an acquisition fee as well. When you do it again once you turn in your leased vehicle, you'll pay those fees again. However, if you absolutely fall in love with your leased Kia and can't stand the idea of turning it in, you can negotiate a purchase of your lease once your lease term has ended.
You Choose!
Ultimately, whether you decide to buy or lease a Kia will depend on your lifestyle and what works best for you. There's no right answer--unless it's right for you. If you decide to buy, let us help you find the best financing for you at Allentown Kia. Even if you have bad credit or no credit, we have options.