Kia Oil Change Service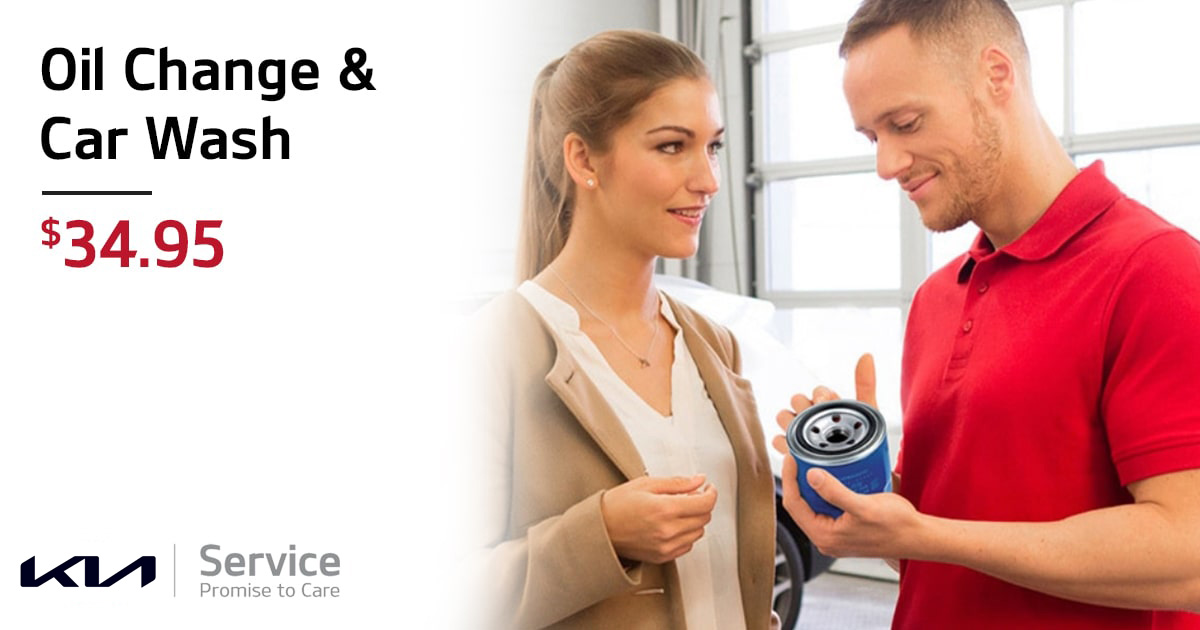 Kia Engine Oil
Every Kia sedan, hatchback, crossover, minivan, or SUV with an internal combustion engine requires engine oil to keep the moving parts lubricated at the optimum temperature. When running at the perfect temperature, the engine can generate power with maximum efficiency. Without engine oil at factory specifications, the engine's moving parts are at high risk for overheating, warping, and might cause the engine to seize up entirely. Engine Oil flows through the engine reducing friction that generates heat. By reducing friction, heat is also reduced. The only problem is Engine Oil starts to break down over time losing its viscosity. When Engine Oil starts to lose its viscosity, it won't be able to keep your engine lubricated and cool. One of the best ways to protect your engine and extend its life is with routine Conventional Oil Change Service at the recommended service interval or sooner if the Engine Oil starts to break down before the recommended maintenance interval.


Signs that my engine oil is broken down and in need of Oil Change Service
At Allentown Kia, we recommend oil change service at the recommended maintenance interval as the best way to maintain your Kia's Engine Oil. However, it is also a good idea to monitor your Kia's Engine Oil just in case it starts breaking down faster. Factors such as hauling heavy loads and driving in stop-and-go-traffic can increase friction and heat inside the engine and can cause Engine Oil to break down more quickly than usual. Here are several common signs that your Engine Oil is broken down and requires a Conventional Oil Change Service:
Check engine light is on
Oil change indicator light is on
Dark, dirty or gritty oil
Knocking engine sound
Engine running hotter than usual
Engine overheating
Genuine Kia Conventional Oil Change Service at the Award-Winning Allentown Kia
The cost of routine Conventional Oil Change Service pales in comparison to the expenses associated with engine overheating. Following the recommended maintenance interval for Kia, Conventional Oil Change Service is convenient, price-effective, and hassle-free at Allentown Kia Service Center. When you bring your Kia to Allentown Kia for a Conventional Oil Change Service, you know that a Kia Certified Technician will complete the work. Allentown Kia is conveniently located near Easton, Reading, and Philadelphia, Pennsylvania.
The Allentown Kia Difference
2017 DealerRater Dealer of the Year | Kia Pennsylvania
Family Owned & Operated
Heavily Involved in the Community
Factory Certified Technicians
Comfortable Waiting Area
Coffee, Snacks & Beverages
Service Hours
610-228-2376
| | |
| --- | --- |
| Monday | 7:30 am - 6:00 pm |
| Tuesday | 7:30 am - 6:00 pm |
| Wednesday | 7:30 am - 6:00 pm |
| Thursday | 7:30 am - 6:00 pm |
| Friday | 7:30 am - 6:00 pm |
| Saturday | 7:30 am - 3:00 pm |
| Sunday | Closed |