SUVs For Sale - Allentown PA
The Best SUVs For Sale Are At Your Local Kia Dealership!
Pick any highway or street in American, and you will find the same thing: SUVs have taken over the roads of this country and for good reason. The size and power they offer can only be matched by a large pickup truck, yet they provide plenty of seating for more than half a dozen passengers and all the comfort and luxury you could want. If you want the very best SUV for sale anywhere from the Philadelphia area to Allentown, PA, then choose a Kia for the greatest combination of sophistication, technology, and remarkable safety features available. While the 2020 Kia Telluride is the pinnacle of what to expect coming out this year, the 2019 Kia Sorento offers the level of incredible luxury and performance that you expect from a Kia.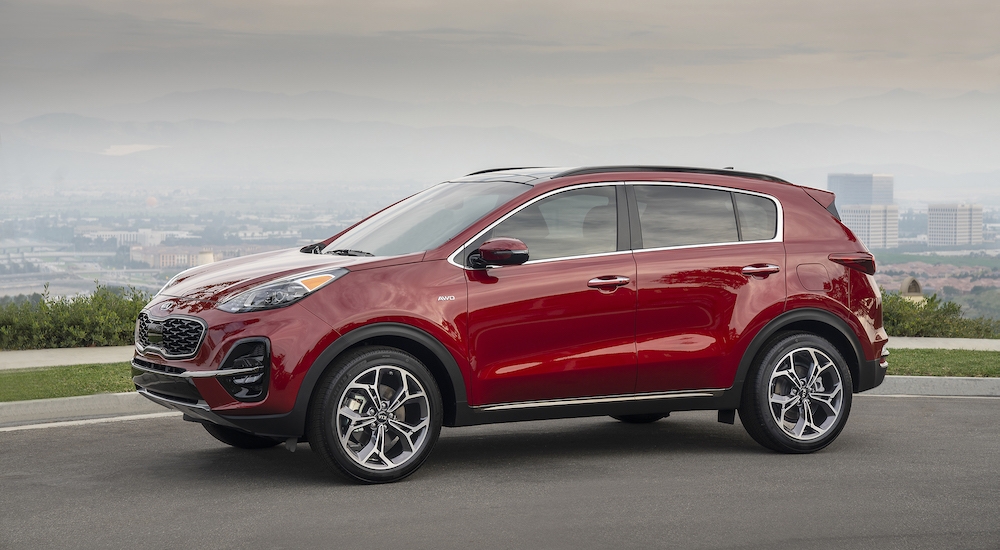 The 2020 Kia Telluride
When looking for the best SUV for sale, you cannot beat the 2020 Kia Telluride, which is truly the flagship of Kia's 2020 SUV lineup. There is no holding back with this beauty, which combines rugged power and durability with sophistication in the perfect blend of performance and luxury. Available active on-demand all-wheel drive lets you take this remarkable SUV just about anywhere while looking absolutely impeccable while you are at it. There is seating for seven or eight passengers, depending on the configuration you choose, so this is a perfect choice if you have a large family or big group of friends.
Technology options, both for entertainment and safety, with the 2020 Kia Telluride outclass just about any other SUV for sale. For example, there is an available 10-inch touchscreen display for the Infotainment center, which is significantly larger than the biggest screens in many other SUVs. Better yet, a head-up display lets you keep track of important information, including speed and directions, without ever taking your eyes off the road.
The 2020 Telluride's impressive array of safety features can protect you and your loved ones thanks to a blind-spot view monitor with a display in your dashboard that shows a live feed of your right-rear blind spot. For highway driving, there is an available highway driving assist feature that can adjust your cruising speed automatically to match the speed of the vehicle ahead of you. An available surround view monitor gives you a virtual bird's eye view of your car to help you stay aware of what is around you, and there is even a safe exit feature that can detect oncoming traffic and alert you if it is unsafe to get out of the vehicle.
The 2019 Kia Sorento

While 2020 models are certainly attractive, there is something to be said for a reliable vehicle that has already proven itself for a year in real-world conditions. The 2019 Kia Sorento is top of the list if you are looking for the best SUV for sale anywhere, thanks to an impressive combination of technological features and functionality. An available 8-speed automatic transmission and Dynamax all-wheel drive make this an absolute marvel to drive. It hugs the road in a way you would not expect from an SUV and reminds you that you are in control every moment of your drive.
The 2019 Kia Sorento has standard 3-row seating for up to seven people with options for all of the luxury and comfort you could want. There are numerous charging sockets throughout the cabin of the Sorento, so you can keep all your devices running, and even a wireless charging area for compatible devices. And if you want the ultimate in entertainment while driving, then the available Clari-Fi Harman Kardon Surround audio system will create a concert hall inside your 2019 Sorento.
Best of all, the 2019 Kia Sorento is one of the safest SUVs for sale anywhere. It features available lane-keep assist to help you avoid drifting into other lanes and available forward collision avoidance that alerts you to dangers you might otherwise miss. An available surround view monitor gives you a birds-eye view of the area around your vehicle, which makes parking safer and easier, and the available smart cruise control system adjusts your vehicle's speed to adapt to how vehicles around you behave.
The 2020 Kia Soul
Of course, if a 2020 model is still what you want, but the 2020 Kia Telluride is more vehicle than you need, then Kia still has you covered. The 2020 Kia Soul is the perfect SUV for sale if you want style, sophistication, and impressive technology but need something smaller that can fit more easily into your life. You cannot get seven or eight people safely into the Soul, but it is a perfect choice if you want something with front and second-row seating.
What is particularly impressive about the 2020 Kia Soul is that it has many of the same remarkable features you can get in the Telluride despite its smaller size. For example, there is an available 10-inch touchscreen display in the Infotainment system, which is far more impressive than what you find with a lot of other compact SUVs for sale. An available head-up display lets you keep your eyes on the road and still see information such as your current speed.
There is even dynamic mood lighting available with an incredible Harman Kardon sound system to create an interior experience unlike anything else on the road. Plus, the 2020 Kia Soul includes available safety features such as blind-spot collision warning and forward collision warning to alert you of dangers on the road. Combine that with available lane-keep assist and smart cruise control, and you get the perfect ride to keep you and your loved ones safe.
The 2020 Kia Sportage
While both the 2020 Telluride and the 2020 Soul are amazing options, you might be looking for something in between those two SUVs for sale. That is where the remarkable 2020 Kia Sportage comes into play, landing perfectly between those other two SUVs. The Sportage is an amazing expression of ruggedness and sophistication, with remarkable technology and great options.
Of particular note is the available 240 hp 2.0L Turbo engine that makes the 2020 Kia Sportage a great option if you want to feel some "get up and go" in your SUV. Auto emergency braking and lane keeping technology are both standard in the Sportage, and available blind spot detection and rear cross traffic alert make this a remarkably safe vehicle for you and your loved ones. With an available panoramic sunroof and standard compatibility with both Apple CarPlay and Android Auto, the 2020 Kia Sportage is a great option that is "just right" between the size and power of the Telluride and the smaller convenience of the Soul.
The 2020 Kia Soul EV
Not content to rest on the fact that the Soul has been completely redesigned for 2020, Kia is also planning an EV model to be released later this year. While concrete details on the 2020 Kia Soul EV are still sparse, it is going to be an incredible option if you want to maximize your efforts to help the environment. We cannot wait to see more about this EV option, and you can bet it will be the finest EV SUV for sale anywhere.

Find the Perfect Kia SUV for You
The beauty of the Kia lineup of SUVs is that there is something for everyone, without relying on seven different models each year. Whether you want the full size and power of the 2020 Kia Telluride or the smaller sophistication of the 2020 Kia Soul, this is a great year to shop for a Kia SUV for sale. Better yet, models like the 2019 Kia Sorento continue to impress with everything that made them award winners when they first hit the road.
At Allentown Kia, we know you have a lot of options when you shop for an SUV, which is why we offer only the best SUVs on the road. Our dealership is located in Allentown, PA, not too far out of Philadelphia. Our staff of friendly, knowledgeable, and professional salespeople and financing experts are here to help answer all of your questions and make sure you drive away completely happy. Come to Allentown Kia and find what you have been missing: the very best SUVs anywhere!